Green Lantern reopens after nine month downtime
Warner Bros. Movie World has quietly reopened the Green Lantern coaster in time for the summer holiday period. A derailment incident in March left the ride out of action for more than nine months.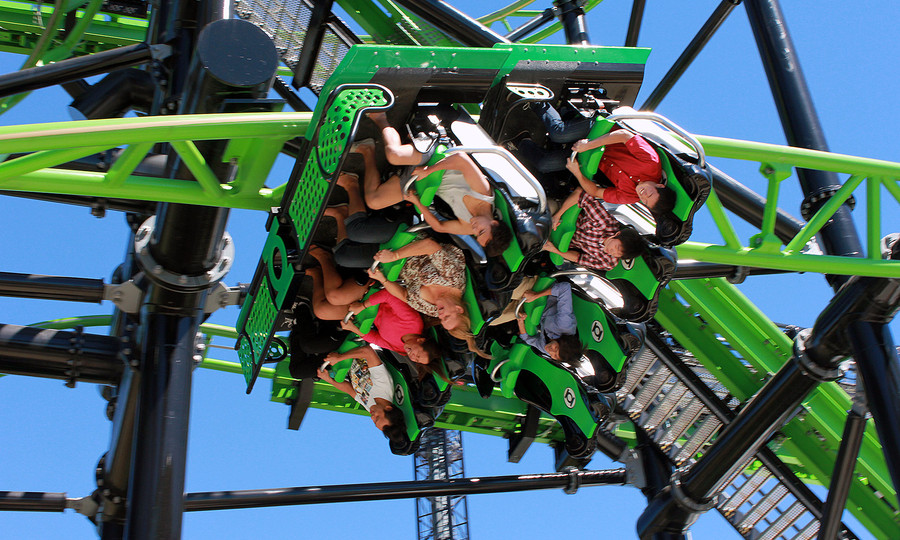 On March 15, 2015 Green Lantern became the centre of the media's attention following an incident that left riders stranded and one car precariously balanced on the track. Photos and eyewitness accounts from the scene of the incident showed that the car's four sets of wheels had become completely detached from the track and the car was left balancing at one of the ride's highest points. No riders were seriously injured.
Investigations ensued, and in October the results confirmed what already seemed likely — that the incident came down to the failure of bolts on the wheel bogies. S&S Worldwide, the manufacturer of the ride, set about redesigning the flawed components and for several months the ride has been undergoing maintenance and testing to prepare for the reopening.
Village Roadshow Theme Parks CEO Tim Fisher said that the wheels had been redesigned. He told the Brisbane Times: "The Green Lantern Coaster's wheel system has now been re-engineered with additional safety features added. We have undertaken hundreds of hours of testing and a review by an international specialist engineering firm as part of our responsibility to the safety and wellbeing of our guests."
"The incident that occurred was a failure of the under-carriage of one of the cars," Workplace Health and Safety's chief safety engineer Michael Chan told the Brisbane Times.
"It was a failure because a component in that carriage failed. And on examination, it was a design issue. They have under-designed the bolt and there is really nothing that Movie World could have done to prevent it. The undercarriage has been strengthened and extra bolts added to prevent the same fault," he said.
The first reports in the Parkz forums suggest that the roller coaster quietly reopened to guests this week, and it is now once again prominently featured on the Movie World website.
Green Lantern opened in 2011. Built by US-based ride manufacturer S&S Worldwide, it is the tallest 'El Loco' style roller coaster in the world, and the only one to feature larger 8-rider cars with 4-across seating.
Featured in this article
---
Recent articles
Now trending