ABC Kids World - Dreamworld's newest world for kids is announced
In a landmark collaboration with Australia's public broadcaster, Dreamworld is pleased to announce a very special new world to open in June 2015, ABC KIDS WORLD.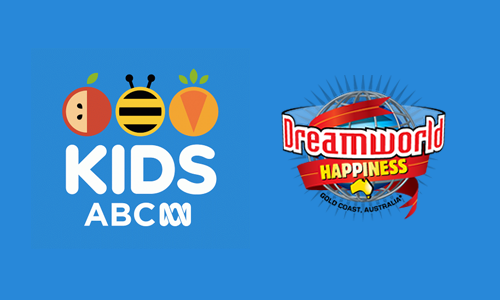 Growing on the successful ten-year partnership with The Wiggles since 2005, Dreamworld will be extending the footprint of their world for children to incorporate several new television icons from ABC KIDS.
Inspired by and designed in collaboration with the popular Children's brand, ABC KIDS WORLD will be every child's fantasy-come-reality where their characters will come to life in an interactive and colourful world of fun, rides and games. ABC KIDS WORLD will be the only one of its kind in the world, complementing existing Wiggles World attractions with rides, playgrounds and characters from Giggle and Hoot, Play School and Bananas in Pyjamas.
Go on a mini adventure in a Giggle and Hoot inspired area. Play on the Giggle and Hoot Pirate Ship, try the new Hop and Hoot ride, and mingle with Hoot and Hootabelle before he heads out on the Night Watch and she flies through the night sky to Twinklify the stars.
Come inside, it's Play School! … Inspired by Australia's longest running children's television series, ABC KIDS WORLD features a number of immersive experiences where the children can indulge their imaginations as they explore the new World's play areas.
It's a wiggly wonderful time at ABC KIDS WORLD where The Wiggle House is neighboured by The Big Red Car ride, Dorothy's Teacup ride and The Big Red Boat ride, with special guest appearances by Dorothy the Dinosaur, Henry the Octopus, Wags the Dog and Captain Feathersword.
And at ABC KIDS WORLD, pre-schoolers will enjoy making their way through the Bananas in Pyjamas Fun Maze as well as meeting the famous residents of Cuddlestown themselves – B1 and B2!
Craig Davidson, CEO of Dreamworld said: "Dreamworld is an iconic trusted brand within the Australian community, as is the ABC KIDS brand. We offer a great opportunity in this new partnership globally through our strong presence internationally both as Children's content and a major tourist destination, the perfect partnership.
"With ABC KIDS WORLD we are offering even more worlds for families, extending on our success with Wiggles World as well as Dreamworld's existing attractions of DreamWorks Experience, legendary family and thrill rides, animals, and water slides."
Robert Patterson, Director, ABC Commercial said "We are delighted to partner with Australia's Dreamworld, to be able to bring the ABC KIDS brand to life and extend the experience to the audience. Our ABC KIDS is a much loved brand for almost 30 years and has entertained generations across the country. We look forward to seeing ABC KIDS WORLD open in June 2015."
Dreamworld will soon be announcing major new plans for an immersive motor-sport experience, and a new dining venue to open by Summer making 2015 a major new development year for the theme park.
Sponsored by : Coles Catalogue | Woolworths Catalogue | ALDI Catalogue | Big W Catalogue | Kmart Catalogue | IGA Catalogue | Target Catalogue
Featured in this article
---
Recent articles
Now trending