2017 was a year of the highest highs and the lowest lows for the Gold Coast theme park industry
There has perhaps never been a year as eventful as 2017 for the Gold Coast theme parks. Unprecedented hype surrounded the construction and launch of DC Rivals HyperCoaster while Dreamworld set about the arduous challenge of recovering from tragedy.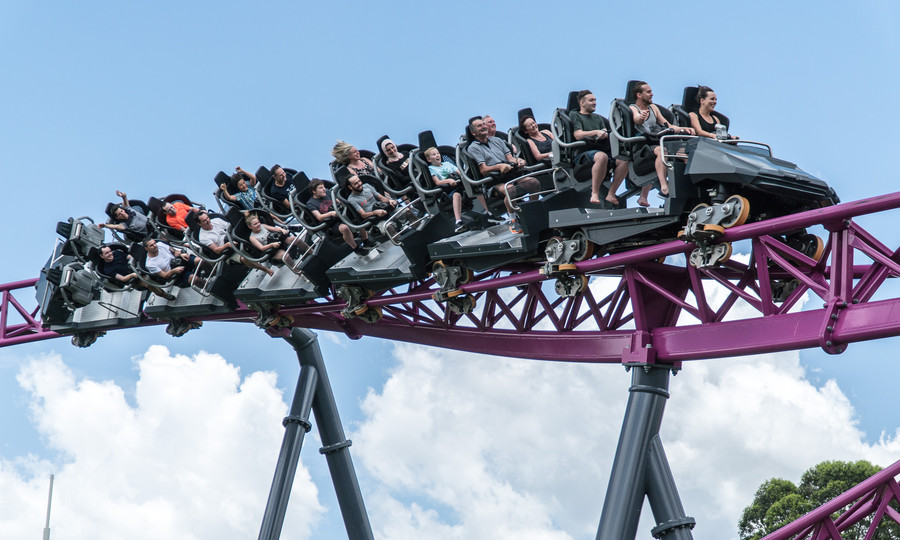 The roller coaster metaphor has never been more apt than 2017. There has perhaps never been a year with such highs and lows for an industry dominated by two major players: Ardent Leisure (Dreamworld) and Village Roadshow Theme Parks (Sea World, Warner Bros. Movie World, Wet'n'Wild Gold Coast).
Huge declines in attendance and revenue were swift following the tragic circumstances of late-2016. All of the parks suffered, but it was also going to be a year of epic highs with the eagerly awaited DC Rivals HyperCoaster already under construction at Movie World.
January 2017
Dreamworld heads into summer with Fire Machine as a limited-time show while extended hours sees the park open until 9pm. The park reopened just a few weeks prior and many attractions remain closed as safety audits and changes continued, but staff are unquestionably glad to be back at work entertaining guests as an entire community looks to recover from the tragic events of 2016.
Carnivale sees its relocation from Movie World to Sea World for 2017. The event isn't perfect in its first year, but shows a lot of promise in the unique oceanic surrounds of Sea World.
The sheer scope of Movie World's forthcoming roller coaster becomes apparent as a vast array of concrete foundations sprawl across the front of the theme park. Scooby-Doo Spooky Coaster meanwhile emerges for the school holidays with much of its ride theming stripped bare.
February 2017
Wet'n'Wild Buggy is introduced at its namesake water park. The off-road driving experience is a marked departure from decades of water slides as the park continues to embrace their "wild" side.
Owners Ardent Leisure wipe $95 million from the value of Dreamworld following the permanent closure of the Thunder River Rapids ride.
March 2017
Village Roadshow gets on the defensive with a recent spate of stories in the media surrounding ride stoppages by releasing a series of ride safety videos.
Dreamworld launches a new image and campaign, based around a reinterpretation of the famous Willy Wonka song Pure Imagination. We thought it missed the mark in how it positioned the theme park, though there was some heart to the new look and feel for Dreamworld.
The first sections of track show up for Movie World's hypercoaster. The colour is hotly debated: pink, purple, magenta? The winning answer: fuchsia.
Tumultuous weather saw the Gold Coast's theme parks all shut for a day, a very rare occurence.
April 2017
Village Roadshow Theme Parks sees the departure of CEO Tim Fisher after a decade at the helm, with Clark Kirby stepping into the role. Fisher was widely seen as the architect of the ubiquitous $99 annual pass as well as the transformation of Warner Bros. Movie World into the thrill capital of Australia.
Vertical construction gets underway on the hypercoaster at Warner Bros. Movie World.
Share prices at Village Roadshow slump as they advise that their expected profits for their theme park division will be lower than forecast, largely in the fallout of Dreamworld's October 2016 accident.
Ardent Leisure CEO Deborah Thomas is demoted following six months of turmoil, missteps and blunders. Her replacement is former Nine Entertainment chief Simon Kelly.
May 2017
Sea World announces the birth of polar bear twins.
Dreamworld's recovery stagnates with revenue and attendance failing to improve against the prior year. A memo to Dreamworld staff is leaked to mainstream media outlets, containing an outline of their plans for new attractions and experiences while suggesting the demolition of Thunder River Rapids would commence shortly. In the memo, CEO Craid Davidson insists to staff that the theme park is not for sale. Meanwhile owners Ardent Leisure announced that they were investigating the rezoning and potential sale or redevelopment of their excess land surrounding Dreamworld.
After months of radio silence, Movie World finally drop a teaser for their forthcoming hypercoaster.
June 2017
DC Rivals HyperCoaster is finally announced.
Movie World introduces a new event, DC Super Heroes and Super-Villains which sees current and old favourite DC Comics characters descend on the park, culminating in a limited-time evening parade.
Dreamworld introduces white lions for the holiday period. They also open the long-awaited Tiger Island Up Close Experience, Parkway Patisseries and Grill and the new Park After Dark events.
After just two months after being demoted, Deborah Thomas leaves Ardent Leisure. Her replacement Simon Kelly calls Ms Thomas's ongoing presence at Ardent Leisure 'unnecessary noise'.
July 2017
Ariadne, an investment group that has bought up 10 per cent of Ardent Leisure in recent months starts to push for seats on the group's board of directors, calling for $25 million to be spent on new attractions at Dreamworld among other things.
The layout of DC Rivals HyperCoaster is completed, capping off several months of construction of the largest roller coaster ever built in Australia.
Sea World announces a sea jelly exhibit to replace Creatures of the Deep in early 2018. The educational attraction is a collaboration with Griffith University.
August 2017
Ardent Leisure announce that Dreamworld attendance was down 750,000 for the prior year and see a two year recovery and low capital expenditure to get there. Ardent Leisure appoints Randy Garfield to their board to quash growing criticism from Ariadne.
Testing commences on DC Rivals HyperCoaster.
September 2017
DC Rivals HyperCoaster opens to rave reviews and breaks an all-time September attendance record.
Meanwhile Village Roadshow announced that they intend to sell and leaseback their Gold Coast theme park land. It won't mean any changes to the day-to-day operation of their theme parks, but media reporting fuelled plenty of misconceptions about the future of Movie World and Wet'n'Wild.
Dreamworld starts work on removing the mountain that surrounds the Eureka Mountain Mine Ride. The park plans to remove only the mountain so that they can evaluate the roller coaster's structure to determine whether it's feasible to reopen the ride.
October 2017
Warner Bros. Movie World's Fright Nights are back. The immensely popular event sees the return of 2016's From Dusk Till Dawn and The Conjuring 2 mazes and the introduction of Jigsaw and Halloween. The event's Ultimate Terror Tour is seen by many as a return to form with the thoroughly entertaining journey through the western sets of Wild West Falls.
Ariadne's push for representation on the Ardent Leisure board of directors was successful, with Dr Gary Weiss assuming the chairman position of the embattled company, replacing George Vernados who was promoted to the chairman role in November 2016.
November 2017
Dreamworld CEO Craig Davidson reaffirms the park's hopes to resurrect Eureka Mountain Mine Ride and the Log Ride amid a lot of plans for the future of the theme park. Davidson also gives the first hints about Dreamworld's next major attraction, a simulator attraction in the park's cinema building.
Simon Kelly resigns as CEO of Ardent Leisure having been appointed in April and officially stepping into the role in July. His interim replacement is company chief financial officer Geoff Richardson, who himself has only been with the company since July.
December 2017
Speculation ends with Eureka Mountain Mine Ride as Dreamworld confirms the ride will not be returning to service. Demolition of the ride is swift, after over a decade sitting dormant.
Village Roadshow announces the sale of their land at Oxenford under an agreement which will see the land leased back and the theme parks continue to operate for upwards of 90 years.
A wide range of new initiatives were introduced by Village Roadshow Theme Parks including vastly increased daily entertainment, a removal of locker hire fees on Superman Escape, the removal of transaction fees and new prices for annual passes.
The Reef at Castaway Bay opens at Sea World. The interactive water play area is designed for families with young children. The area features hundreds of fountains, countless marine creature sculptures and a picturesque volcano towering over the site.
Dreamworld announces a Brogent i-Ride Flying Theatre attraction, due to open in late 2018 in the Dreamworld Cinema building. It's a solid start to the holidays with Dreamworld attracting possibly the biggest normal trading crowds in over a year.
Onto a solid rebound for 2018
Perhaps the one positive of a year of such lows is that the only place to go is up. Already in 2018 things are looking good. All theme parks have reported solid trading for the busy December and January period.
Dreamworld's i-Ride attraction is their first truly big-ticket attraction since 2007's Mick Doohan Motocoaster and is sure to help the park with their ongoing recovery. By January every attraction at Dreamworld was once again operational for the first time in over a year.
Sea World will see the launch of Sea Jellies Illuminated as the park continues down a path of unique attractions aimed at young families.
Warner Bros. Movie World is set to bask in the glory of DC Rivals HyperCoaster and will benefit from the long-awaited rejuvenation of Scooby-Doo Spooky Coaster, due later this year.
Featured in this article
---
Recent articles
Now trending