Last call: Dreamworld's Tower of Terror to close November 3
Another iconic attraction at Dreamworld is going for good, but some lessons have been learned from the bungled Wipeout closure earlier this year.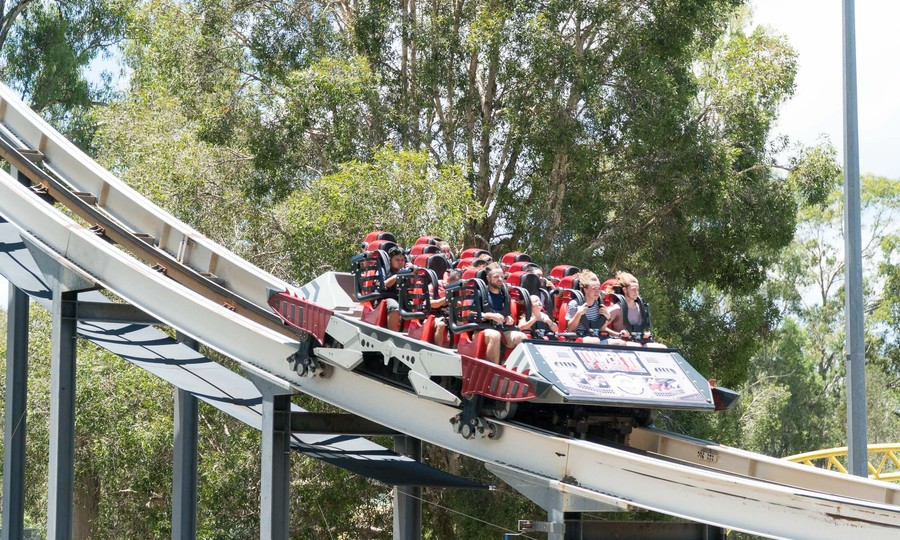 It's been no secret that Tower of Terror II at Dreamworld has been on life support for several years. An overhaul in 2010 that saw the launch track enclosed and the replacement of the carriage with a new, lighter reverse-facing version gave it a few more years, but today's announcement was to be expected.
The ride has faced increasing unreliability and periods of unannounced downtime that would often last weeks or months, launches that reach a fraction of the advertised 160km/hr speeds when it did operate, and the sorts of jolts and shudders one would think impossible on a straight length of track, today's announcement was expected sooner rather than later.
Setting the standard for thrill rides in Australia
Tower of Terror was built in 1996, though delays with its comissioning saw its opening delayed until January 1997. When it did open, it narrowly beat Six Flags Magic Mountain's opening of an identical twin-track version of the same ride, giving Dreamworld the record for the fastest roller coaster in the world, and the first to reach the 100mph milestone.
At one fell swoop Dreamworld had overshadowed Warner Bros. Movie World's own forray into major modern thrill rides with Lethal Weapon. With the followup addition of Giant Drop to the same tower less than two years later, Dreamworld had cemented themselves as the thrill ride capital of the Australia.
Such was the strength of Tower of Terror that it took the world-class Superman Escape and DC Rivals HyperCoaster for Movie World to definitively capture the title for themselves.
Lessons learned
Today's announcement comes as no surprise, but it does show that lessons have been learned from the bungled retirement of Wipeout. Like Tower of Terror, Wipeout limped for years with its nearing demise painfully obvious to any observer. Yet Dreamworld – either through sheer ignorance of the ride's importance, or lacking the financial ability to replace it properly -- chose to squeeze every last drop out of the dying ride instead of gracefully retiring it with forewarning.
The announcement of shaded seating to replace Wipeout was so laughably cynical that it was deservedly torn to shreds across social media.
More: Dreamworld mismanagement reaches fever pitch with tone-deaf Wipeout closure
Today's announcement still wasn't perfect. It falls in a dead spot where the immediate hype over next year's Unknown Steel Roller Coaster and Sky Voyager's eventual opening has died down. There was no immediate replacement announced – though Dreamworld have said that there will be a thrill ride announcement next year. But warning was given and fans have been given the rare opportunity for one last hurrah.
But perhaps most perplexing, today's announcement is on the eve of the three year anniversary of Thunder River Rapids's tragic accident which cost four guests their lives. Either Dreamworld management were blissfully unaware of the importance of this date on the calendar, or this is a hamfisted attempt to distract from the anniversary of this tragedy.
The former – to forget such a monumental date – seems unfathomable even by the low standards for strategy Dreamworld have set for themselves. The latter option – deliberately announcing it today – would be an exercise equal parts cynical and incompetent; to think that the closing of Dreamworld's most iconic ride would distract rather than amplify annual coverage of Dreamworld's fatal Thunder River Rapids accident is so brazenly inept that we're reminded that it's still Ardent Leisure at the helm of this struggling theme park.
A kid-friendly replacement?
With an ABC Kids expansion on the cards, ostensibly the ride's main building will be cleared to make way for a logical expansion that connects ABC Kids and DreamWorks, giving Dreamworld an interconnected corner devoted to children's attractions. It's unlikely that Dreamworld would once again shoehorn a major thrill ride into this narrow section of land, particularly with ample expansion opportunities available elsewhere.
Giant Drop will remain, so Dreamworld's iconic 40-storey tower will remain as a monument of sorts.
Some might miss Tower of Terror's thundering roar, others will be glad that you can finally have a conversation or enjoy tranquil animal exhibits without being punctuated by the clanging of steel-on-steel every 10-15 minutes. Either way, it was always an enjoyable ride and guests now have ten days to enjoy Tower of Terror before it's gone for good.
Tower of Terror's last scheduled day of operation is 3 November 2019.
Featured in this article
---
Recent articles
Now trending