The Parkz Update: Wet'n'Wild Sydney Opening Soon
Australian water park fans will get an early Christmas present, with the eagerly awaited Wet 'n' Wild Sydney due to open on December 12th. Parkz gives the uninitiated all they need to know about what's on offer at the park.
Seven years ago Australian theme park fans were gearing up for the opening of Whitewater World, on the Gold Coast, the first major new park opening in Australia in more than a decade. Now it's Sydney's turn, with the much anticipated, Wet'n'Wild Sydney set to open at Prospect on the 12th of December.
At a construction cost of $115 million it's set to fill the void left in Western Sydney by Wonderland, which closed almost a decade ago. The park will feature four major water slide complexes, a wave pool, lazy river, children's area, as well as a 'latitube' surfing attraction and skycoaster (The latter two being extra cost).
But specifically, what can visitors expect from Australias newest Aquatic playground? Parkz gives you the full rundown.
Over at the north west corner of the park are the high adrenaline attractions. Perhaps the biggest thrill will be on 360 Rush, a group of four, 360 degree looping water slides, nearly identical to the hit "Aqualoop" attraction at Wet n Wild on the Gold Coast. Guests begin standing in a capsule with a trap door at their feet. 3..2..1…. the trap door flings open and guests plunge down a steep 12m drop hitting speeds of 60km/h, before shooting up through a "loop de loop" before hitting the splash down.
On the same tower are the garishly coloured H2Go Racers. This marks the worlds first installation of a "Whizzard" racing slide featuring combined twister and helix elements. So what does this jargon mean? Guests race head first on mats down 8 parallel lanes, first through a set of tunnels that are braided together in a twisted mess. The lanes then peel away from each other, each following a 360 degree downwards spiral. Just as you hit maximum speed you emerge from the tunnels down an open air final straight to the finish line. A timing system monitors each lane, so guests can ride again and again to perfect their start and streamline their riding position to win the race.
Both of these attractions were provided by Whitewater West of British Columbia, Canada. Nearby is the parks next major tower, featuring 3 large slides (Two of which are Australian firsts) from world renowned waterslide manufacturer, Proslide of, Ottowa, Canada.
T5 is a new take on the "Tornado" type water slides seen on the Gold Coast and south of Sydney at Jamberoo. Imagine a giant funnel laying on its side. Groups of four guests ride a raft, dropping into the funnel, where they are swept back and forth much like a snowboarder in a halfpipe. What makes this one special is the fact the funnel is fully enclosed, allowing for a much darker, more thrilling experience. Unfortunately, videos released to date show that slide hasn't quite turned out as dark as expected, so hopefully the park takes some steps to address this, and really set the ride apart from those seen elsewhere.
Bombora is the first installation in the southern Hemisphere of the 'TornadoWAVE' and in fact is one of only 9 in the world at this time. Again, four guests ride together, plunging down a steep 540 spiral. Next, they are flushed out onto a large wave shaped surface that curves towards the sky. Their momentum carries them up the wave, they hang for a fraction of a second experiencing zero gravity, before plunging back down at high speed towards the splashdown.
The bizarrely named Tantrum rounds out this set of attractions. Those living in Melbourne's north east may have had a chance to ride a similar attraction at the Greensborough aquatic center, though this one steps the scale up a few notches. Imagine a series of mini "tornado" shaped funnel chambers all arranged in a series down the length of the slide. Groups of four guests twist and turn on their way down, experiencing a moment of turbulence as they oscillate through each funnel chamber. Hold on for this one!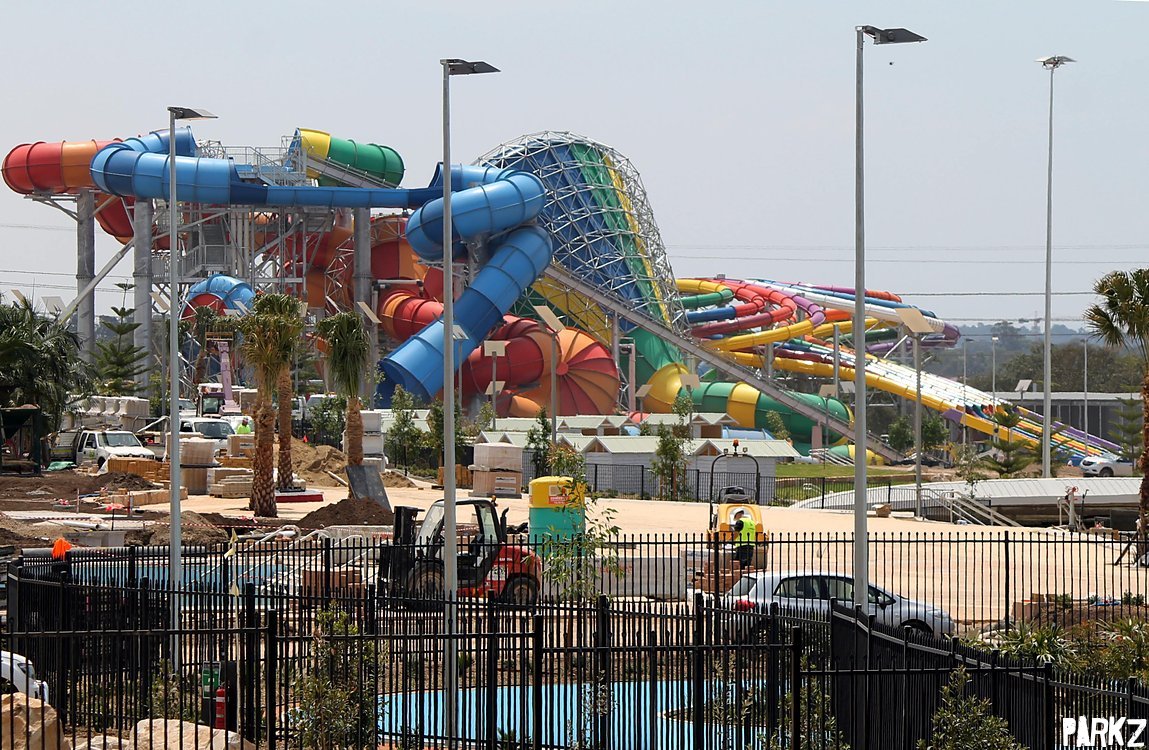 The third major slide complex is built by WhiteWater West. On this tower are all the slides which can be ridden in conventional 1 and 2 person rings. The Breakers are a set of four "Master Blaster" slides; the first ever seen in Australia. Think a waterslide can't run uphill? They do here. Guests ride up and down a series of roller coaster style dips, with high pressure water jets in the bottom of the slide literally "blasting" guests along the uphill parts. To top it all of the slide concludes with a large double dipping drop to the splashdown.
Tropical Cyclone is a more conventional downhill run enclosed in a tunnel, but features four bloated, tightly wound 360 degree twists. The gimmick here is that the uniqu shape of these twists was designed by engineers to cause the raft to whip right up on the wall as they spiral down, giving riders a strong dose of centrifugal force.
The AquaTube is a nod to a classic slide seen at the Beach at Wonderland Sydney. Nothing here but lots of twists and turns in pitch black darkness.
The Halfpipe is similar to the afformentioned Bombora slide, albeit scaled down. The slide resembles something you'd see in a skatepark in more ways than one. You drop down, pick up speed, shoot up the wall, then plunge back down. However, the extra kick comes from a "camel hump" you pass over on the return trip, giving a fun moment of butterflies in the stomach. Another Australian first here too.
Next is Typhoon, what is known in the business as a "Rattler" slide. Guests negotiate some twists and turns, but on the way down are a couple of barrel shaped chambers that rafts are swept into. Imagine sliding around in a giant front loader washer and you've got the general idea.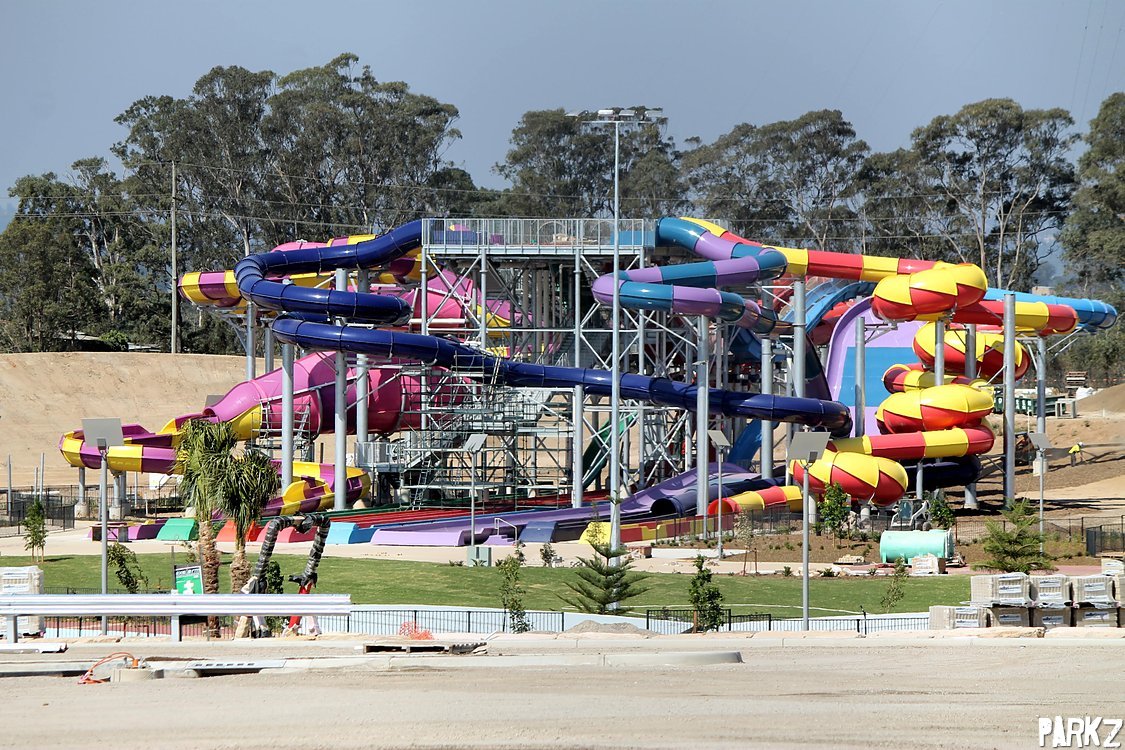 The fourth and final slide tower complex is another Proslide installation. The Curler and Riptide are 'Mammoth raft slides', where the whole family can ride in what looks like a circular life raft. One slide features lots of twists and turns, in and out of darkness. The other has a couple of short turns, before you plummet down a large double dip to the pool below.
The Double BowlsEye is another unique water slide, still seen at relatively few water parks worldwide. Imagine spiralling towards the middle of a giant toilet before being sucked down the centre. In fact, the slide features two of these bowls, linked together by meandering tunnels. Whew, think that list was exhaustive? Now imagine trying them all in a day (And just a tip: stay till the evening…The park is reported to have a pretty impressive lighting package set to music, so it'll take on a whole new personality after dark).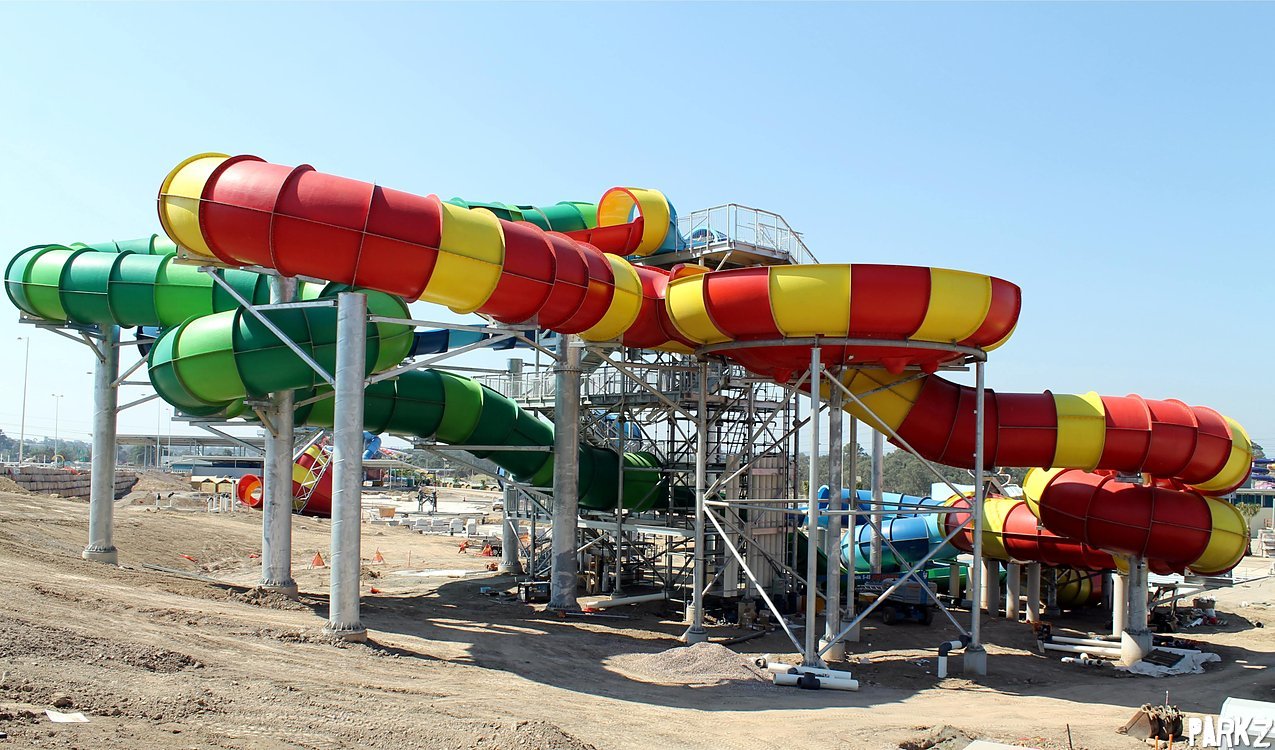 But we're still not done yet. The centerpiece of the park is The Beach, the park's giant wave pool, the largest in the country in fact, capable of 2.4m waves. It even comes complete with a giant 50,000 sqm sandy beach.
Boomerang Bay is a relaxing 'lazy river' attraction, where you can float along all day in a ring and let the current carry you. If you want a bit more excitement, the river features a couple of branches, where you can take the easy route, or a route with waves, rapids and fountains.
For the younger ones is Wet'n'Wild Jr, which features a miniature version of the T5 funnel slide and H2Go Racer just for kids, as well as 8 other pint sized slides. There's also wading pools, splash pads, fountains and a giant tipping bucket. What's lacking however is a giant water play structure, seen at virtually every other water park worldwide. Hopefully this will come when the park inevitably expands in the future.
A couple of 'extra cost' thrill attractions have been carried over from Wet'n'Wild on the Gold Coast. The Sydney Skycoaster could best be described as a giant swing. Guests are harnessed up, hoisted to a height of 75 m, before they voluntarily pull a cord, which releases them, sending them swinging back and forth, high above the wave pool. If the Gold Coast is anything to go by, expect to pay $30 or so to try this
The Surf Deck is an artificial wave attraction, similar in concept to the FlowRiders seen at a few locations in Australia. Built by Australian firm Latitube, jets of water are pumped at high speed from the wave-shaped contoured surface, and guests can surf or boogie board on the spot against the flow. The going rate for these types of attractions tends to be $10 a session or so.
So that's the lowdown of Australias biggest and newest water park. The park will operate through the warmer part of the year. Tickets are $69 – pricey, yes – but it'll be a marathon to do everything on offer at the park, so you'll certainly get your money's worth. If you are a local it's undoubtedly better value to just pay an extra $30 for an annual pass.
Wet'n'Wild Sydney opens December 12, 2013.
---
---
Recent articles
Now trending