FlowRider makes a splash at Dreamworld
Dreamworld's latest interactive attraction, FlowRider, opened at the Gold Coast theme park over the weekend. What better way to launch a boardriding attraction than by inviting some of Australia's brightest young pro surfers, bodyboarders, wakeboarders, snowboarders and skaters to give this unique fusion of all five sports a go for themselves?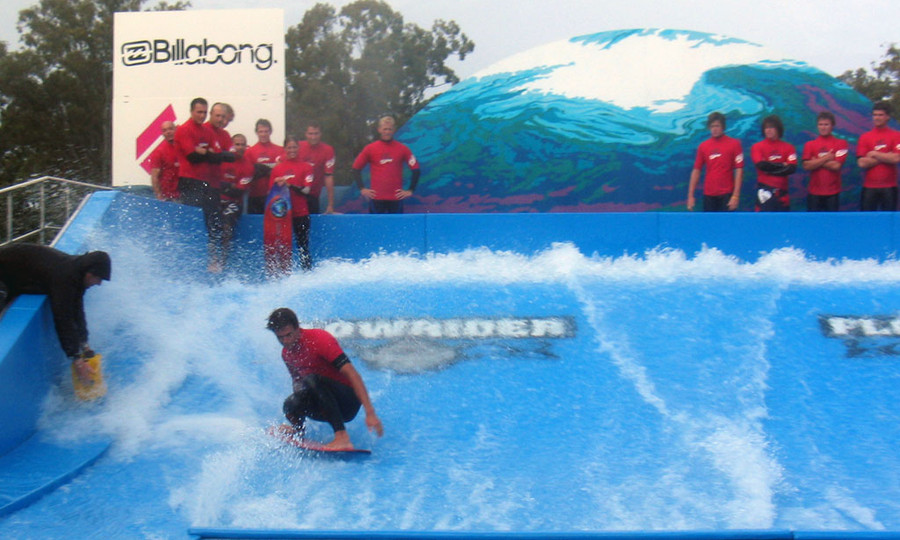 If the enthusiasm of the 20-odd professional boarders who gave the ride a crack last Thursday is any sign, the FlowRider is a hit for Dreamworld, the park which has cemented itself in recent years for bringing Australia some of the biggest and best thrill rides out.
FlowRider is fairly different from the standard theme park attraction. It's entirely skill-based, with riders taking it in turns to ride the stationary wave.
If you picture a big wave-shaped foam surface you have the first half of FlowRider. Add a 6-inch layer of water running up the wave at 30km/hr and you have the full picture. What results is a 4ft unbroken wave ready to be ripped up.
The speed of the water makes it similar to wakeboarding - indeed it's the same principle that lets wakeboarders and flowboarders alike stand up on the layer of water. Also like wakeboarding, and unlike snowboarding or surfing, the control comes from the back foot, not the front foot.
Of course the fact that you're on a wave makes it similar to surfing. The moves you can pull of too are pretty close to surfing, with the level of control of snowboarding, wakeboarding or skating thrown in to make for some pretty nifty tricks.
The key disclaimer of FlowRider, as heard from Dreamworld's CEO Stephen Gregg, FlowRider inventor Tom Lochtefeld and USA champion flowboarder Sean Barnes, is that it is an amalgamation of all four of these sports, but yet completely different from all of them.
This makes perfect sense to me - my prowess on snowboard or wakeboard has yet to translate into surfing skills beyond a few glorious seconds of dropping in on waves - so I can imagine that there is a learning curve for just about anyone, making FlowRider enjoyable for anyone, whether or not they have experience with board sports. Indeed this was evident on the day, with very few of the veteran boarders being able to do anything more than show how safe the padded surface is with some particularly spectacular spills.
Dreamworld during the day will operate FlowRider chiefly as a bodyboarding style attraction. The fact that standing will pose difficulties for even the most seasoned boardrider out there means that this mode of operation will only take place at night and at select times during the day.
Rides on FlowRider are $5 for a half an hour session which is limited to 15 people to guarantee a good go for all. Those who want more can come back after Dreamworld hours for NightRider. For $20 a head you can share a full hour session with twelve others, and spectators can come in and watch at night for only $5.
---
---
Recent articles
Now trending