Surfers Paradise attractions unite
In a brand new tourism initiative, four of the Gold Coast's attractions have introduced a ticketing option that will create savings, titled the Surfers FAB 4 Fun Pass.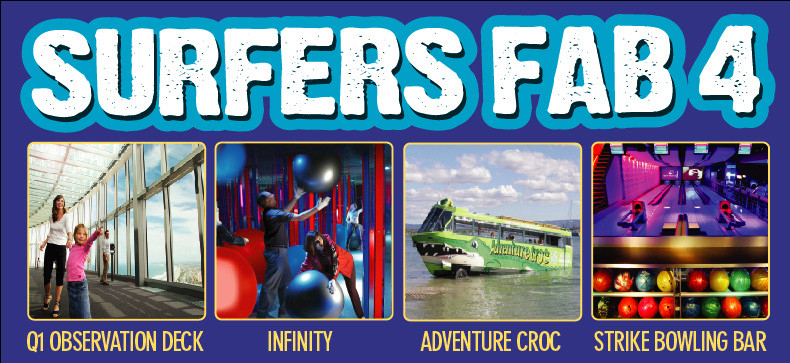 Based in Surfers Paradise - the heart of the Gold Coast - Q1 Observation Deck, Strike Bowling Bar, Adventure Croc and Infinity have joined forces to offer a value packed pass for people of all ages.
The Surfers FAB 4 Fun Pass provides 7 days of entertainment with all-age entertainment, complete with a second entry to each attraction for free.
The ticket is valid for 7 days from the first entry to the attraction of choice, and caters to time restraints through its flexibility. Each attraction is within easy walking distance of each other and the pass is affordable for families and groups. The pass is said to be an ideal accompaniment to a Gold Coast stay, complementing other tourist initiatives such as Warner Village Theme Parks' multi-theme park ticket offerings, or Dreamworld and WhiteWater World's World Pass tickets.
The pass is available for purchase from the participating attractions in addition to selected ticket sellers.
The
Featured in this article
---
Recent articles
Now trending