Movie World offers first hints about 2017 roller coaster
Warner Bros. Movie World have made the first moves towards formally announcing their forthcoming hypercoaster, boldly stating that the greatest attraction in the southern hemisphere is coming in September 2017.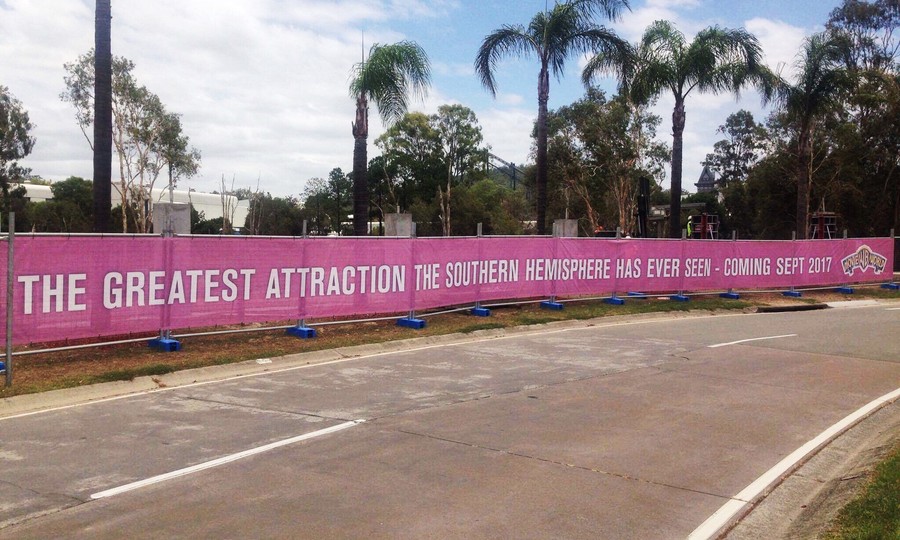 Village Roadshow, owners of Warner Bros. Movie World, first hinted at a world-class ride over a year ago at their Annual General Meeting. Details were scant but over the months details have come to surface.
Mack Rides crates were spotted on-site in September. By November the ride was confirmed to be a hypercoaster with a height of around 60 metres. With these facts in mind it will almost certainly be the longest and fastest roller coaster in Australia.
Warner Bros. Movie World are yet to formally announce the roller coaster, but the banners that appeared on Monday don't mince their words. The theme park is going all out on this one:
The greatest attraction the Southern Hemisphere has ever seen – coming Sept 2017.
Mack Rides CEO Christian Von Elverfeldt briefly spoke at the 2016 IAAPA Expo about the forthcoming roller coaster.
We will build a similar one [to China's Flash hypercoaster] with a custom layout in Australia for this year.

Christian Von Elverfeldt, Mack Rides CEO
The banners at Warner Bros. Movie World are presented in a bright pink colour that's either a bold stylistic choice for theme park fans to read far too much into, or the first subtle hint to a theme for the gargantuan roller coaster.
No other details have been released. When asked when it would be announced on their Facebook page, a Warner Bros. Movie World spokesman repeated – almost verbatim – what Village Roadshow co-Chairman Robert Kirby said way back in November 2015 about the attraction: that it would be announced "in the coming months".
---
---
Recent articles
Now trending