Richard
Photos Richard has uploaded
Here are all of the photos that Richard has uploaded.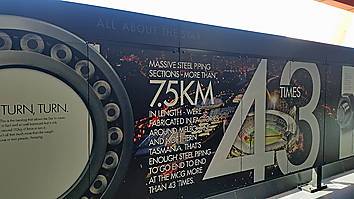 Prior to boarding guests can learn facts about the wheel, including a life sized photograph of the main bearing.
The Melbourne Star Observation Wheel overlooks Wonderland Junior. The Wacky Worm coaster seen here has since shifted onto the travelling carnival circuit.
There's quite a bit of give in the sliding canopy, so they rattle and shake quite violently throughout the ride.
Most flume rides use high backrests that ensure that riders can't fall out should they disobey rules about standing up during the ride.
The canopies slide out of place to allow riders to embark and disembark.
Dreamworld is the only park in the world to add such a structure to a log flume.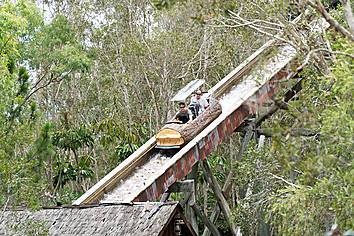 The purpose of the canopies is to discourage riders from standing up during the ride.
New canopies have been bolted to the existing log-shaped boats.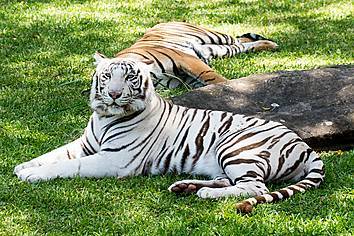 Some lush green grass and shade also does the trick.
Standing motionless in a swimming pool is not to be underestimated at this time of year.
Looking back, it appears that the Vekoma plaque was removed way back during the ride's 2014 maintenance and never reinstated. Does it still count as Vekoma?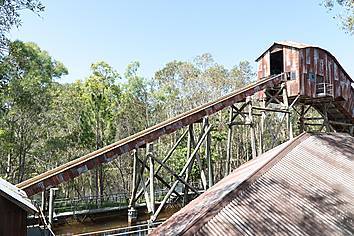 Despite the questions surrounding the boats, the Log Ride sits looking ready to go.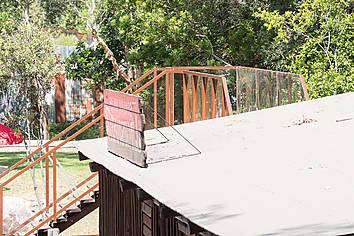 Perspex is hard to escape on the Log Ride now.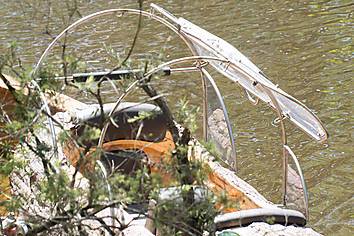 The awnings slide to either side, loosely fixed to the arched frame with four u-shaped brackets. The steel mechanism along the top of the of the awning locks into the eyes welded at the top of each arch. When down in this side position, the entire weight of the frame is rested on the tip of just one of the rather flimsy-looking u-shaped brackets in the back corner.
The awnings also appear to provide numerous pinch points for operators and guests alike. We'd also draw your attention to the gaffer taped upholstery.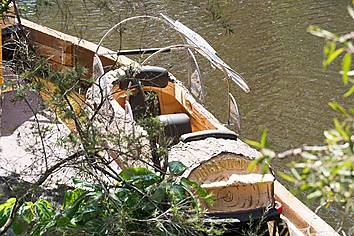 The bizarre sliding awnings are the defining feature of the forthcoming Log Ride reopening and they raise a lot of interesting questions. Such as how staff will deal with the repetitive manual operation of these heavy steel devices. There don't appear to be any guide wheels, bearings or mechanisms to lessen the physical exertion needed to slide this into and out of position.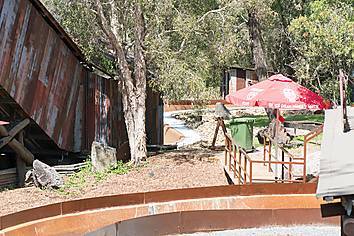 Nothing particularly dramatic has happened with the Log Ride in a number of weeks. Its reopening date has been completely removed from the Dreamworld website.
The theming consists of characters printed on the sides of the gondolas.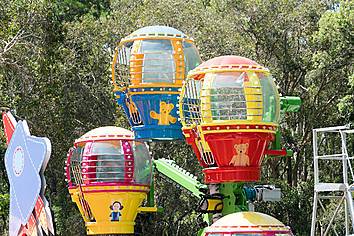 Most theme parks comission Zamperla to build custom themed gondolas (Pandamonium is a great example), but for this ride Dreamworld have gone with a stock standard and particularly dated design of caged gondolas.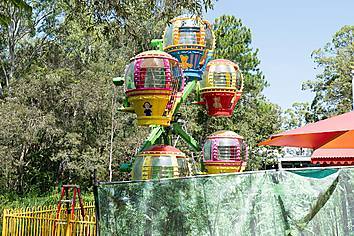 The ride is a stock standard Zamperla Mini Ferris Wheel featuring some fairly uninspiring Play School artwork.