JaggedJanine
Photos JaggedJanine has uploaded
Here are all of the photos that JaggedJanine has uploaded.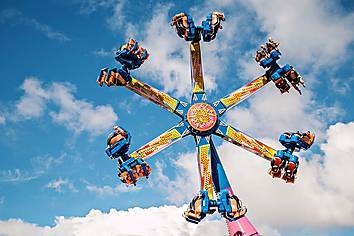 One of several Zamperla flat rides at the park.
Kids driving school type attraction are a staple at many family theme parks. Rainbows End features a tidy looking version, undercover like all of their children's rides.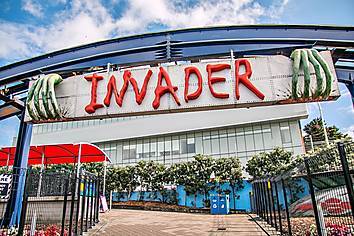 Invader sign.
Invader features a spinning flying saucer like vehicle that is powered along a wavy track.
The queue features simple theming showing various forms of spacecraft that have been "tested" over the years. In a bit of Kiwi humour, the final one of course is an image of the ride itself, which remains "untested".
Like Pandamonium at Dreamworld, there are two queues, depending on whether you want to go upside down or not. The ride runs the relevant cycles depending on demand.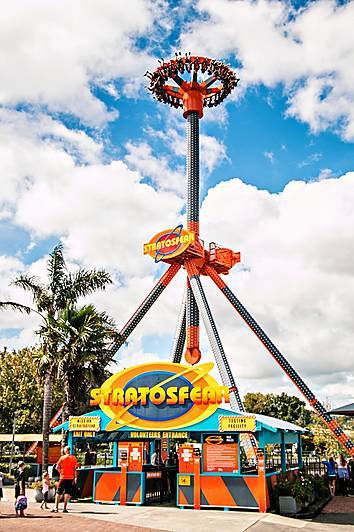 It's one of the more impressive flat rides at the park, though tends to spend a lot of the ride cycle merely building enough momentum to make it over the top. You'll get around three full loops before being braked to a stop.
The Surf N Swing.
The awnign over the Chinatown entrance has been removed, many years after the area was closed to the public.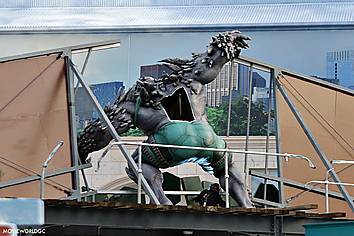 A Doomsday statue has appeared over the entrance to the ride.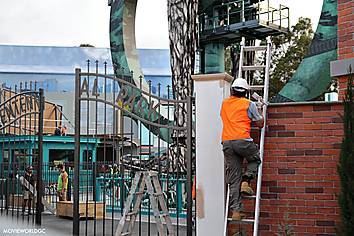 Work busily continues as finishing touches are put on the area. The besser block fence has been given a brick treatment to match the area's main shop.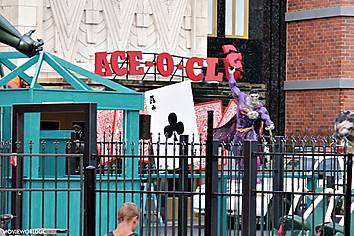 Bizarro tearing down the Ace of Clubs signage.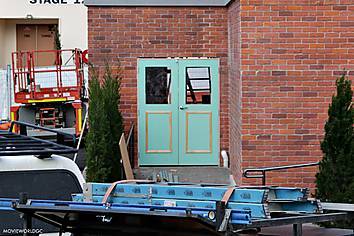 Doors in place on the ride shop building,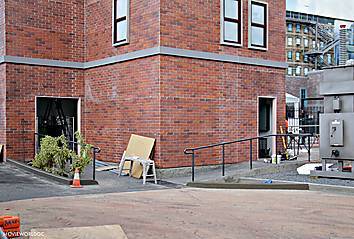 Finishing touches including gardens and handrails are put on the building, though the brickwork is still looking a bit rough around the edges.
Sheets of faux brickwork in place. The grout where the sheets join looks OK, but it's everywhere else that needs some work.
More signage goes up to add character and DC-ify the area.
The area is starting to really capture that comic book vibe perfectly.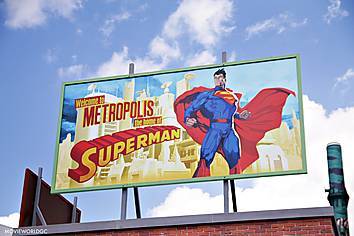 There won't be too many superheroes around DC Comics Super-Villains Unleashed.
They've gone to great lengths to incorporate all sorts of relatively unknown DC Comics' elements. Whereas previously a DC themed attraction at Movie World would include little more than its namesake character, Movie World, Warner Bros. and DC Comics have gone to great lengths to create a universe with Super-Villains Unleashed.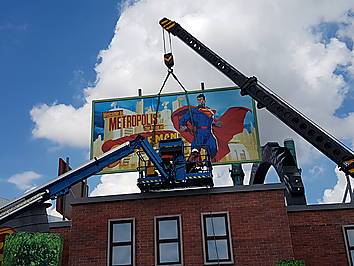 If only superheroes were real, then superhero billboards might be a thing.