Quirks, concerns and flaws with Dreamworld's new Log Ride canopies
Amid excitement about the long-awaited return of Dreamworld's classic Rocky Hollow Log Ride, there's one thing that stands out. The canopies they've added are unlike any log flume by any other theme park operator or ride manufacturer, and there's more than a few questions about them.
In April 2016 a rider on Rocky Hollow Log Ride at Dreamworld reportedly ignored safety warnings and stood up mid-ride and fell out. The ride was cleared by officials and reopened just a few days later. Fast forward six months and tragedy struck on Thunder River Rapids. Though both water rides, there's no inherent similarities between Rocky Hollow Log Ride and Thunder River Rapids.
Likewise the incidents were very different from one another and there's no possibility that the series of events that led to four deaths on Thunder River Rapids could ever happen on Rocky Hollow Log Ride. Nonetheless, the Log Ride remained closed for over a year.
When it reopened this week, its log-shaped boats featured the addition of a steel frame and an acrylic roof. Officially, Dreamworld have referred to it as a Perspex canopy.
Dreamworld should certainly be commended for committing to reopening the ride. There's a reason flume rides are a staple at virtually every theme park in the world; they are family favourites with truly universal appeal owing to their minimal rider restrictions and the offering of balanced, modest thrills that anyone can enjoy.
But there's more than a few questions surrounding these canopies.
Shake, rattle and roll
The frames are bolted to the ride's existing 35 year old fibreglass boats. The supporting frame visibly twists and flexes from even the light push and pull of ride attendants as they check that the canopy is locked in place.
The canopy itself doesn't grip the frame but rather is loosely secured by a steel pin at the front and rear. The entire fixture rattles up and down and rolls side to side throughout the ride.
Even if the frames bolt into a steel frame within the fibreglass, it's unlikely these boats were designed for this purpose. The added weight would also seem to increase the centre of gravity of the floating boats, which use bottom-mounted wheels to remain stable.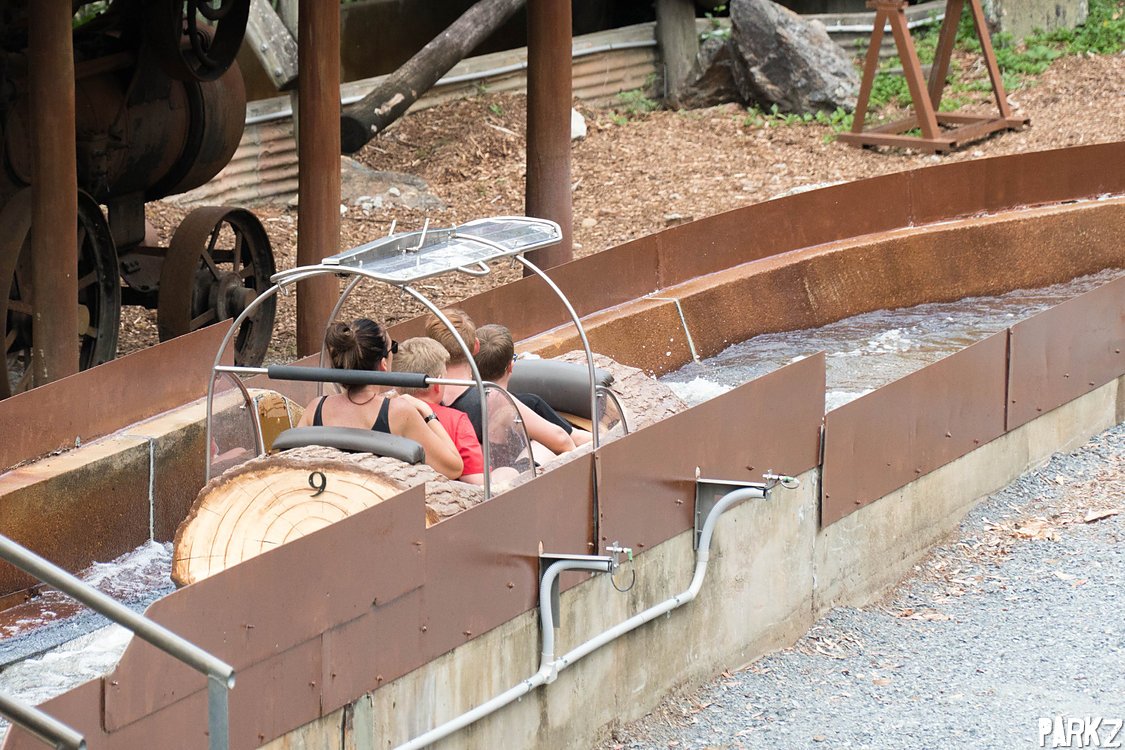 Pinch points
The rattling canopy is in easy reach of most people and in a short space of time numerous riders were observed holding onto the new handles designed for ride attendants to slide the roof into and out of place.
The easy-to-reach handles means that riders hands and fingers could also wander into the many pinch points, most notably the large u-shaped bolts that have several centimetres of give. Every gentle meander of the ride's course causes the canopy to rattle with metal slamming on metal and it appears that there are several places for fingers to get caught and possible injuries to occur.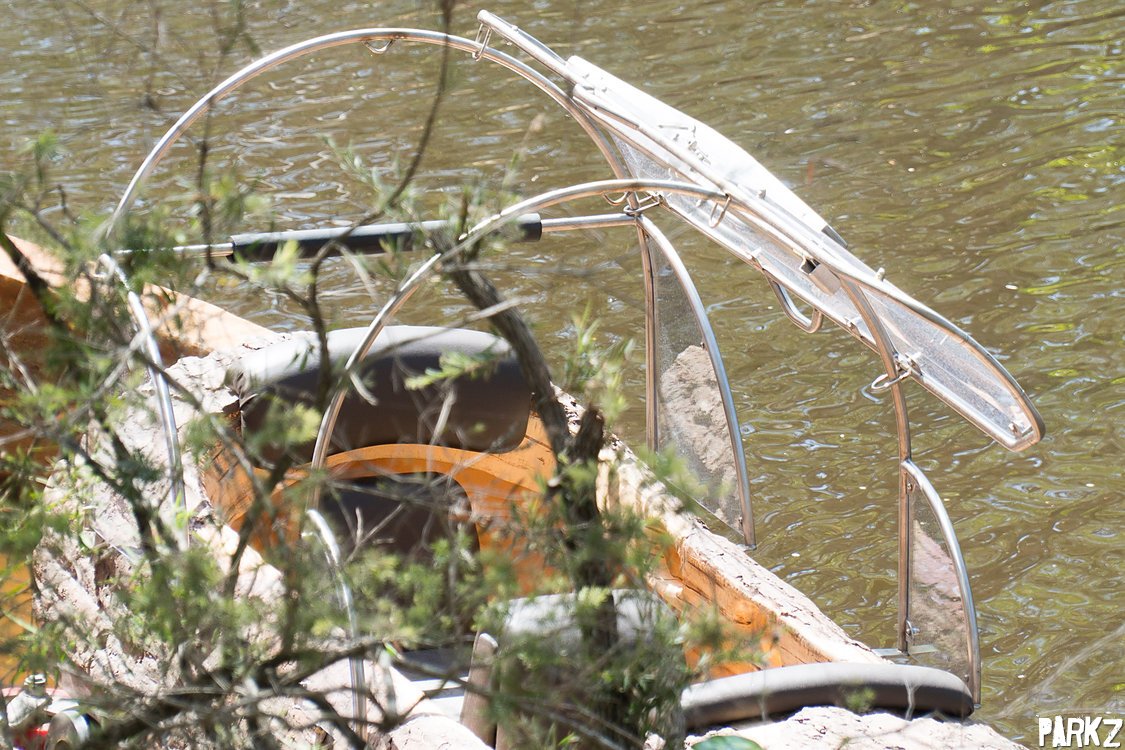 As riders enter and exit the boat, there is nothing stopping them from holding onto the frame or retracted canopy for support, which is free to shake, slide and pinch should they grab hold as they move.
The frames could also give daring riders more places to hold on and brace themselves should they foolishly ignore safety warnings and stand, lean, rock or generally cause mischief.
Tripping and banging
The frame features curved support brackets that protrude into the space that riders enter and exit through. Up to four riders at a time now come and go through about half the space they once did.
A padded bar is placed on the frame at the back of the boat, presumably to strengthen it and prevent anyone falling out through this gap. It's at neck height for many taller riders. Considering these rides are designed to allow boats to bump into one-another, it's strange to see so little head support.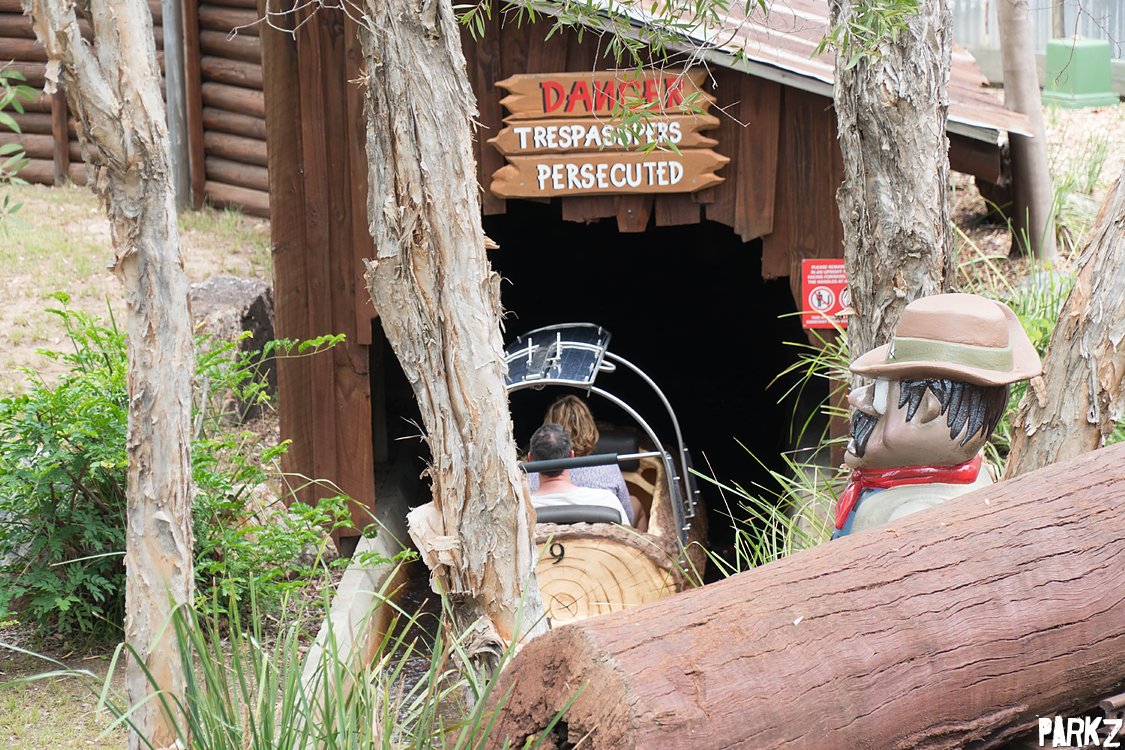 Manual handling
Operators lock and unlock the canopy by flicking a lever on top and then slide it into and out of position by way of a large handle. It's a two-handed operation and attendants were witnessed precariously leaning over the boats, using the frame to support themselves as they maneuver the contraption in and out of place.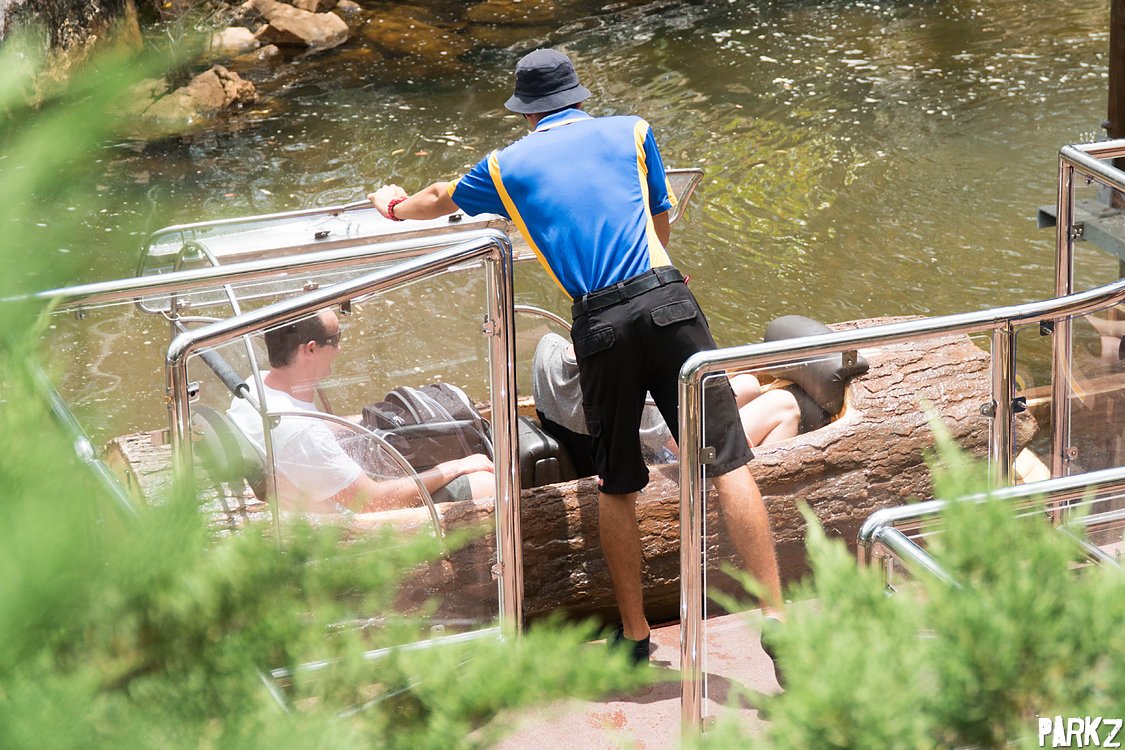 Where many modern ride systems require operators signal to the system that they are in a safe position by standing on a sensor mat or holding down a button at key moments, the Log Ride appears to rely on rather manual prodedures and safeguards despite the new requirement of physical interaction with the boat.
The simplest ride at Dreamworld just became complicated
Some of these points might seem alarmist or pedantic, but it needs to be stressed that no other theme park in the world has done something like this to a flume ride.
Read more: Dreamworld's Log Ride modifications are a symbol of everything wrong with Ardent Leisure
Upwards of a million guests take a ride on Rocky Hollow Log Ride each year. Riders as young as one can ride with an adult and four-year-olds can ride unaccompanied. Disabled guests, elderly guests and foreign tourists with limited or no grasp of English instructions will seek out the Log Ride for its tame, family-friendly fun. School groups where dares and one-upmanship are the norm will have a literal field day with these new contraptions.
Everything about these canopies lacks the fool proof element that every theme park experience simply must have.
Featured in this article
---
Recent articles
Now trending