Leviathan: what you need to know about Sea World's new wooden roller coaster
With Australia's first new wooden roller coaster in 35 years set to debut at Sea World in 2020, this is everything we know so far about this monumental new attraction.
Leviathan will be a traditional wooden roller coaster
While manufacturers such as Rocky Mountain Constructions are taking the theme park world by storm with their critically acclaimed hybrid wooden roller coaster technology, Sea World's Leviathan will be constructed with technology that has existed relatively unchanged for almost a century.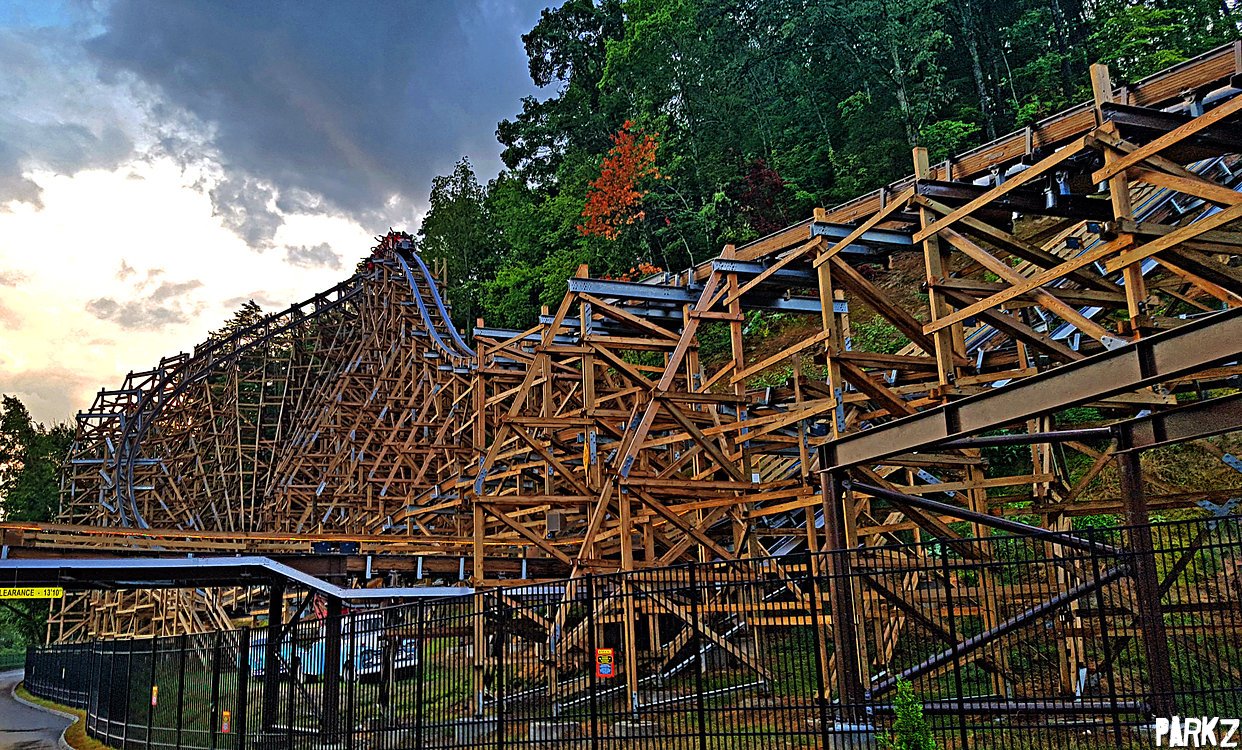 Leviathan will be the first wooden roller coaster built in Australia in 35 years, and the only traditional wooden roller coaster currently operational. Though Scenic Railway still operates in Melbourne some 107 years after debuting, this ride features archaic technology that predates what came to be the defacto standard in wooden roller coasters just a few years later. Coney Island's 92 year old Cyclone operates to this day with the same fundamental technology and design seen on many hundreds of wooden roller coasters since.
This same century old technology will be utilised on Leviathan – and that's certainly not a bad thing.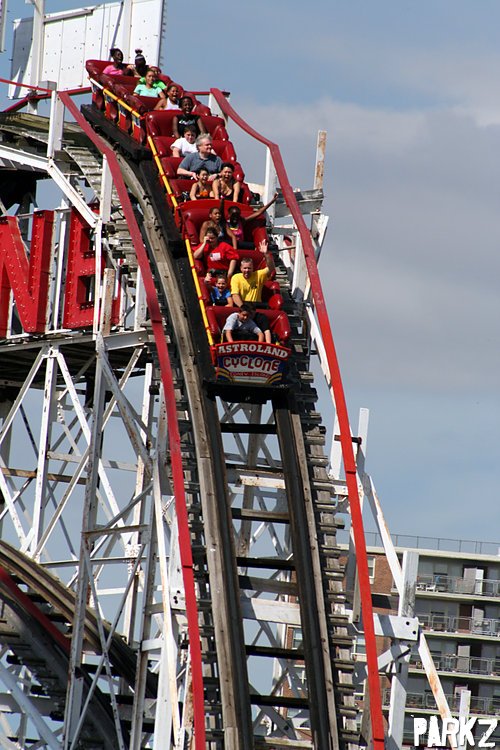 At its core of these rides is a undulating, twisting and turning lattice structure of wood (though the Coney Island Cyclone's support structure is steel, as has been utilised on many wooden coasters over the years). Snaking its way along this structure are two parallel strips, built up with layers of laminated wood and atop this is a thin steel strap which forms the track. Wheels lock in above, inside and below an overhanging ledge to form the road, guide and upstop wheels that keep the train on the track as it careens the drops, hills, twists and turns that form the layout.
Of course for all the fundamental simplicity of the wooden roller coaster's construction, the past 25 years or so have seen a massive surge in both the popularity and quality of wooden roller coasters.
Advanced computer technology means that they can be designed with precision and push just as many boundaries as steel coasters. The construction too has become a precise science, far removed from the trial and error of bygone years where track would be chopped and changed year after year to fix problem spots.
Modern wooden coaster trains feature light trains and articulated wheel assemblies that handle the track better, lessen damage and keep the rides smoother for longer. Safer and more comfortable restraints ensure a better ride experience.
And of course Leviathan will feature modern control and safety systems that will make it every bit as safe as its steel couterparts.
Wooden roller coasters are quite maintenance heavy and theme parks typically employ dedicated technicians – often with a background in carpentry – to maintain the rides. Crews walk the course daily to inspect the track section by section and perform on-the-spot repairs. Sections of the track and structure can be easily replaced as they succumb to wear and weather, which is why there are many wooden roller coasters around the world dating back 100 years.
Why wood?
To many a wooden roller coaster conjures images of a dilapidated amusement park from a Scooby-Doo cartoon. So why would any theme park install a relic like this?
It's was always a question of when – not if – Australia would ever build a modern wooden roller coaster. Everywhere there's theme parks in the world, there's modern and highly successful wooden coasters. The pricetag is favourable: a seriously high impact attraction can be built with a fraction of the budget of an equivalent steel coaster.
Sea World have opted for a natural wood look. While suiting the ancient, mythic times of its theme it also conveniently helps reduce upkeep costs. In the long run wood will fare much better than steel against the salty, sea breeze and most importantly Sea World won't need to repaint the ride to keep it looking fresh.
The ride experience is seriously unique; wooden roller coasters have personality. Wood is organic: it never stops changing and responds to the conditions. A ride in the morning feels vastly different from one in the late afternoon, after hundreds of cycles throughout the day warm up the track and trains. A ride one year will feel different the next.
Then there's the spectacle. Even if you're not riding they're simply fun to watch. Wooden roller coasters are mechanical beasts. It's not the intimidating roar of a modern steel coaster: they ratchet, rattle and shake in all the right ways. The structure gently heaves and sways as the trains twist and turn.
And of course there's the history. It's the sight and sound of more than a century of thrill-seeking, virtually unchanged.
Martin & Vleminckx are the manufacturer
Village Roadshow have partnered with Canadian roller coaster construction company Martin & Vleminckx.
M&V specialise in the construction of traditional wooden coasters featuring a wood structure and laminated wood track.
In recent years they've become the wooden coaster manufacturer of choice for the burgeoning Chinese theme park market, but have also built wooden coasters throughout North America and Europe dating back to 1985.
They've also carved a name for themselves in the industry as an installer of steel roller coasters and have worked with all the biggest names in the roller coaster industry including Bolliger & Mabillard, Intamin, Vekoma, Zamperla, Chance Morgan, Mauer Sohne, Premier and more.
Unlike steel roller coasters which are precision fabricated on distant shores and shipped piece-by-piece to Australia, wooden roller coasters are built from raw lumber on site. Southern yellow pine from the US is the timber of choice for wooden roller coasters around the globe; in the next 12 months we can expect to see enough shipping containers of timber appear at Sea World to give your local Bunnings a run for its money.
Gravity Group are the designers and train manufacturers
Much like steel coaster manufacturers like Intamin and B&M outsource design aspects to firms like Stengel Engineering, Martin & Vleminckx have worked with renowned wooden roller coaster designer The Gravity Group for Leviathan.
Roller coasters like The Voyage from The Gravity Group consistently rate in the world's top ten in industry and enthusiast polls. The company is an off-shoot of the defunct Custom Coasters Incorporated (CCI) who were instrumental in the development of the modern wooden roller coaster and the accompanying resurgence in the 1990s.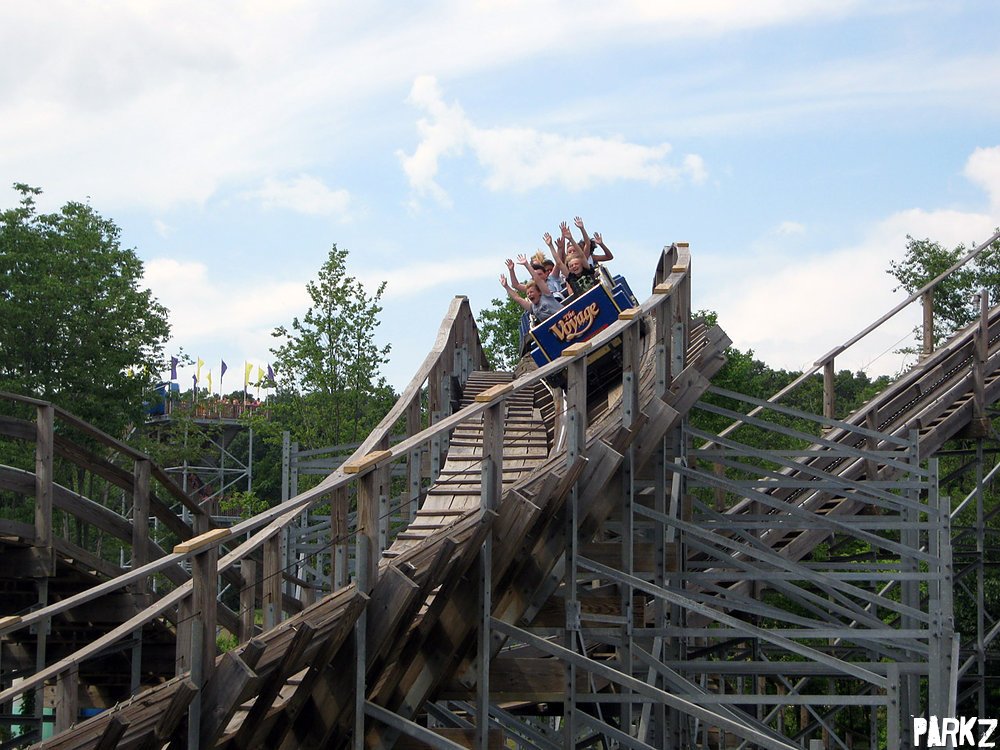 The Gravity Group will also be supplying their Timberliner trains for Leviathan. These low-profile, articulated trains are spacious, open and comfortable and also offer unique theming opportunities.
Though the 3D rendered video of the ride showed tiny 12-seater trains – virtually unheard of on a roller coaster of Leviathan's scale – the RollerCoaster Database suggests the ride will feature typical 24 seater trains.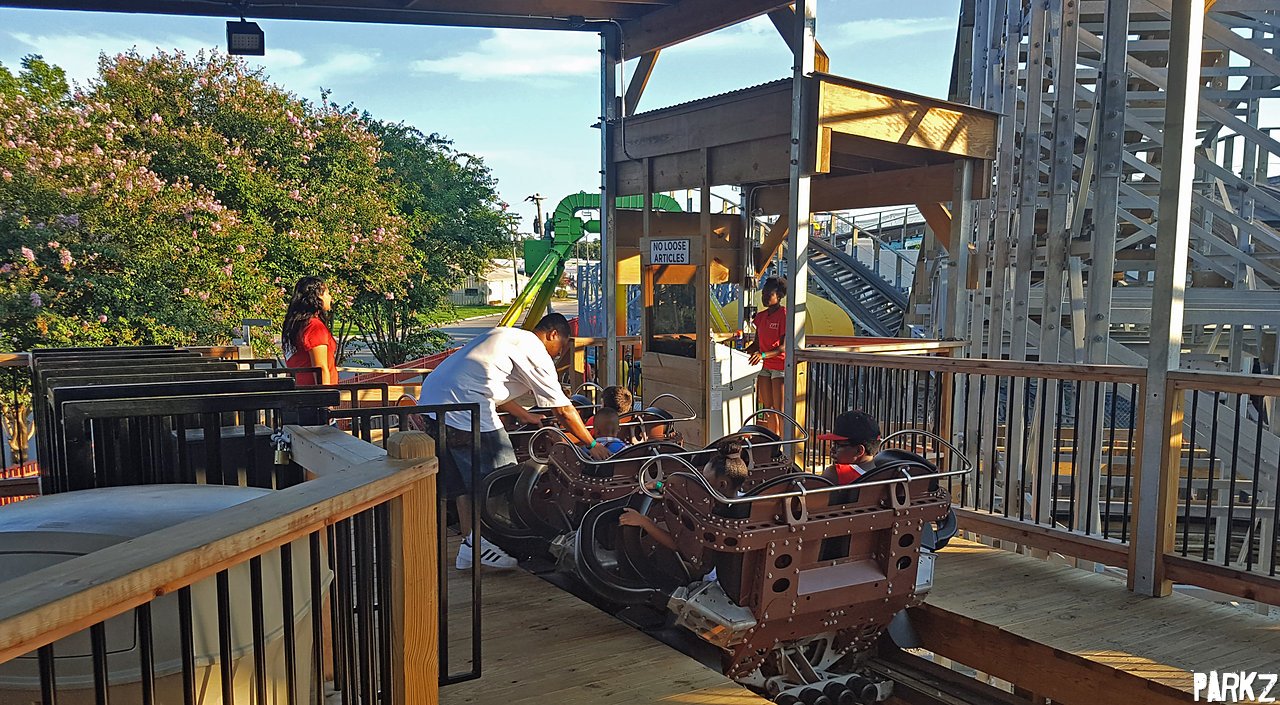 Tiny 12 seat trains like those depicted in the video are normally reserved for diminutive children's wooden roller coasters that are a fraction the size of Sea World's Leviathan.
Full 24 seat trains would give Leviathan a solid throughput of 720 riders per hour with one dispatch every two minutes.
The rear two seats will face backwards like on DC Rivals HyperCoaster and we can expect this to be an additional cost experience. Like Rivals it's a concept never used on a wooden roller coaster before, though many wooden roller coasters over the years have rotated entire trains to face backwards for a different ride experience.
It's a twister
The ride's 909 metre length is wrapped into a remarkably small footprint. Wooden roller coasters of this nature are appropriately called twisters. Designed to emphasise speed and g-forces these rides are also known for their close calls with the support structure.
Don't let the twisting, compact layout fool you. Leviathan has been designed for airtime: Martin & Vleminckx's Chuck Bingham told us there will be a moment of airtime for every 50 metres of track. It'll also feature ten crossovers which makes for 20 'headchopper' moments – one as you enter the wooden structure and one as you exit – which will certainly be one of the most exciting aspects of Leviathan for Australian guests who haven't experienced this sensation before.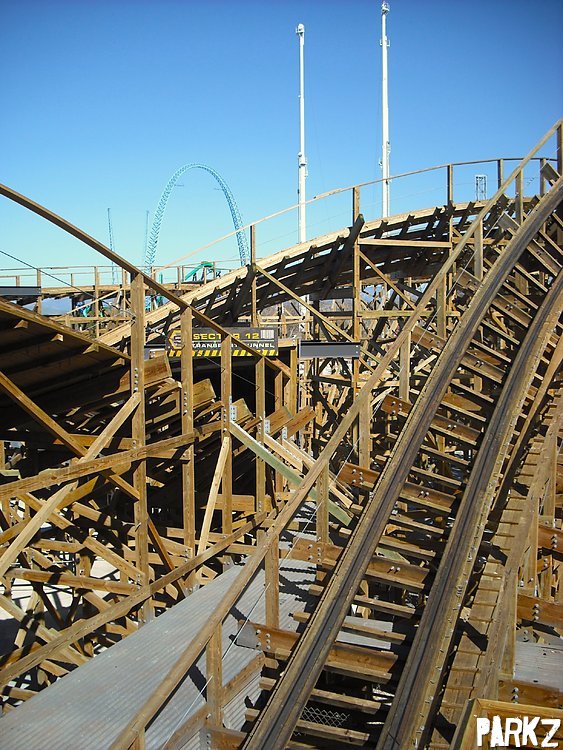 The modern wooden twister coaster was perfected by Great Coasters International (GCI), another off-shoot of CCI. The Gravity Group has generally focused on 'out-and-back' style coasters in the past, with an emphasis on hills and airtime, but that isn't to say they aren't masters in their own right when it comes to jumbled messed of track.
Trust the model – not the artwork
There's a noticeable disparity between the artwork Sea World have released and the replica model that was displayed for the announcement of The New Atlantis.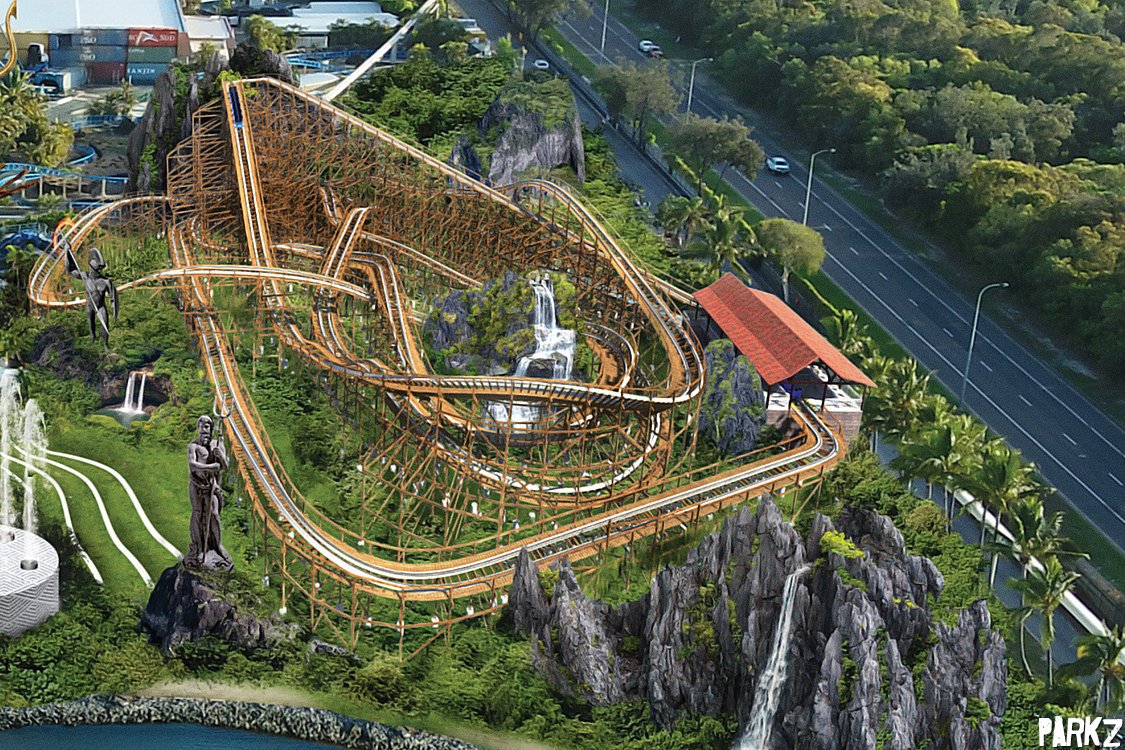 The model on display was provided by manufacturer Martin & Vleminckx and should closely resemble the finalised layout.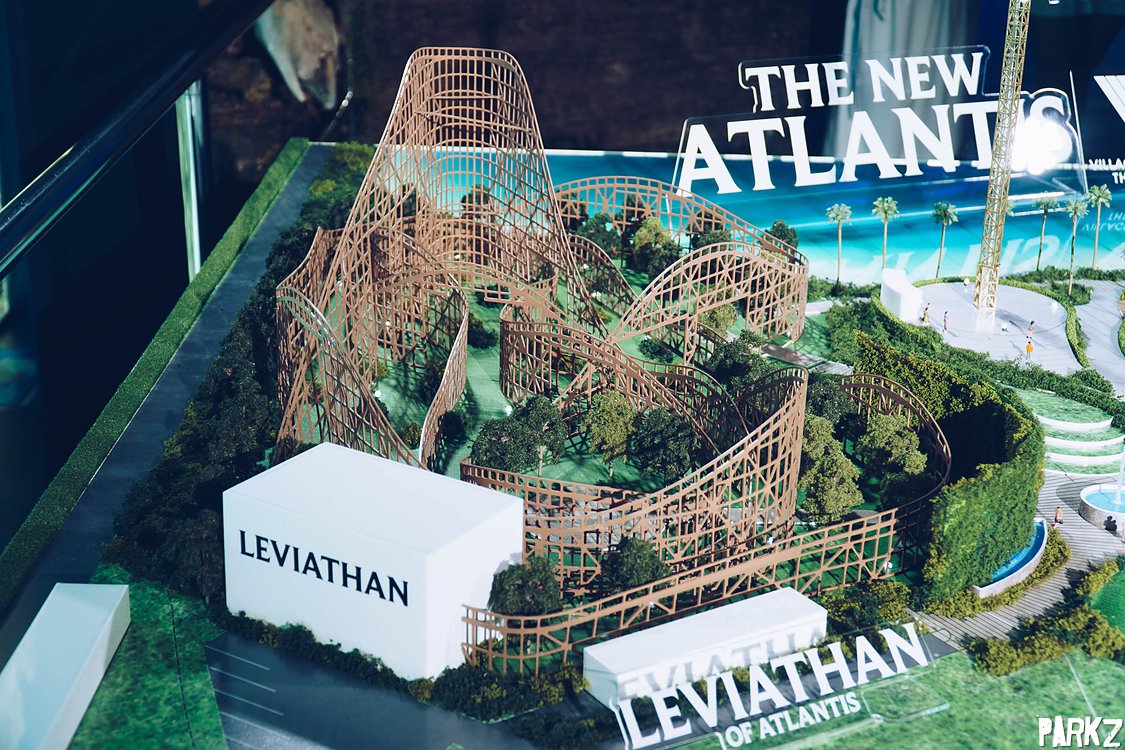 In total there were three iterations of the roller coaster's layout. What we see in the concept art was possibly an earlier version of the ride, or simply an artist's imagination. In reality the towering lift hill and first drop will be up against the lake – creating an impressive structure for guests entering the park and making their way towards the ride.
But Leviathan's not Greek
The name is a somewhat odd choice for an area named The New Atlantis and featuring extensive theming relating to Greek mythology.
Leviathan has its origins in Hebrew – not Greek – mythology. The sea monster is often depicted as either a whale or as a dragon. Sea World's depiction in artwork for the ride is the latter, much like the fibreglass incarnation seen at Sea World's Creatures of the Deep. One ancient description says Leviathan spans the circumference of the world, others put his size at a much more believable 300 miles in length.
At any rate, Leviathan is big in a truly biblical sense. The twisting, snaking roller coaster that will bear his name doesn't quite carry the same jaw-dropping size – at around 30m tall it's dwarfed by many other Gold Coast rides – but it will certainly conjure the right image of a dragon with the planned landscaping and scenery.
Leviathan's direct counterpart in Greek mythology is Cetus, a serpentine fish. Cetus is of course the root for cetacean, the family of animals that dolphins and whales belong to.
Just shy of a kilometre
Though Sea World are advertising the ride as a kilometre long, in actuality it will come just shy at 909m. Not only does it come short of a that nice neat number, but in doing so Leviathan won't even take the crown as Australia's longest wooden roller coaster. That honour goes to Scenic Railway at 967m, which has held the crown since The Bush Beast (975m) closed along with Wonderland Sydney in 2004.
It will however be the second longest roller coaster on the Gold Coast after DC Rivals HyperCoaster.
The cold hard numbers
Full details are yet to be released. Martin & Vleminckx have said the the ride will be 27m tall and 909m long, while Sea World are calling it 32m tall and 1km long. It's possible that there's a disparity between the total height and the drop height, or that Sea World is factoring in GST in their stats for some reason.
Martin & Vleminckx also said the ride will have a top speed of 85km/hr.
So I made it this far… can I ride it yet?
Leviathan is still 18 months away. It's due open in December 2020.
Sea World are building up to its opening with Vortex due later this year and Trident in April next year. The three attractions will form The New Atlantis, which is part of a $50 million spend on new attractions recently announced at Village Roadshow's Gold Coast theme parks.
---
---
Recent articles
Now trending