Dreamworld's Steel Taipan roller coaster Prepares to Launch
The wait is almost over for Dreamworld's triple launching, four time inverting roller coaster.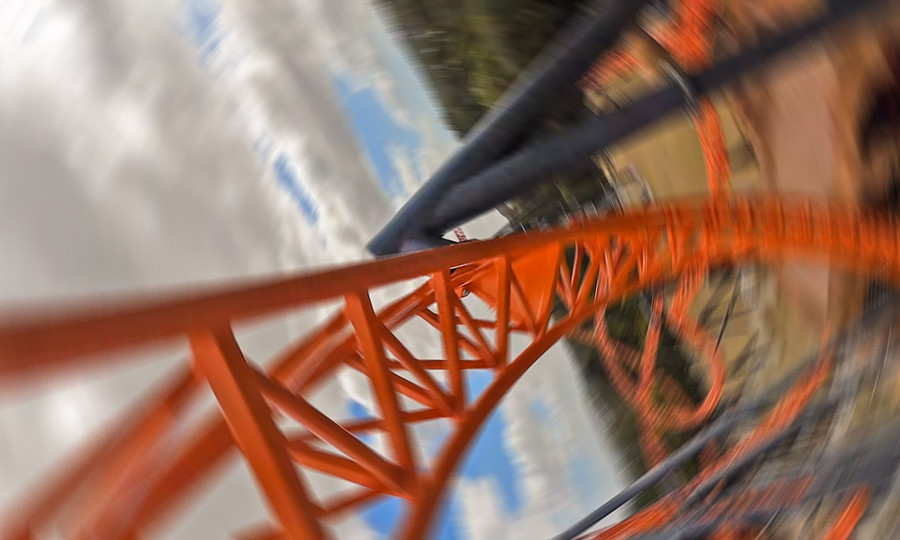 Although Dreamworld remains tight lipped on Steel Taipan's exact opening date, construction has all but wrapped up on the thrill ride and marketing for their largest roller coaster ever has kicked up a notch in recent days.
Billboards have started to appear across south east Queensland heavily promoting the thrill ride and an associated $99 annual pass deal. The park has also launched an impressive teaser for the ride, showcasing the sheer scale of the ride, and the insanity of its spinning seats.
Indications are that testing and commissioning is virtually finished, with the ride's soft opening expected any day now. It brings to an end a tumultuous couple of years from when the ride was announced to now, with COVID-19 throwing the ambitious project into disarray and delaying it by more than a year.
With its opening imminent, what can riders expect from this $30-plus million beast?
Snappy Inversions
The ride features 4 inversions. A large loop, two corkscrews, and a barrel roll. It might sound simple – none of these elements are new to Australian theme park goers – but the latter three of these will be sure to shock.
Indeed, corkscrews have come a long way since the old Sea Viper at Sea World. Modern manufacturers favour a tight 'flick' at the top, generating some head spinning g-forces.
But undoubtedly it's the high speed barrel roll at the end which will truly catch riders by surprise, a favourite feature of other versions of this ride overseas.
Airtime
Though it's a tight, twisted ride with emphasis on inversions, expect airtime aplenty. This sensation of weightlessness – like you're being lifted out of your seat – will be found throughout Steel Taipain.
From floating airtime at the top of the reverse spiral, to sideways airtime on the horseshoe, to a good dose of ejector airtime on a section of track that threads through the loop, and even a tricky moment when the train dives sharply off the mid course brakes, the ride is sure to deliver.
The trains are designed with lap bars that allow upper body freedom, and the seats are elevated so your feet don't touch the floor, so there's no choice but to be lifted upwards repeatedly.
Great Pacing
Mack Rides have gained a reputation for designing great coasters with an exciting pace, with the train smoothly and speedily negotiating twists and turns.
DC Rivals HyperCoaster being the example many visitors would be familiar with. Plenty of other Mack Rides like Copperhead Strike at Carowinds in the USA and Helix at Liseberg in Sweden have opened to critical acclaim as well.
But it was the Blue Fire launch coaster design which started it all, and there's a good reason nine other theme parks have bought them.
Launch, launch, launch
Still a relatively unusual feature on launch coasters, Steel Taipan features a swing launch system.
Instead of accelerating the train in one shot, it moves backwards and forwards three times, building up speed each time. It's somewhat similar to Surfrider at Wet'n'Wild Gold Coast, but instead of remaining in a valley of track, the third of the launches gives the train enough speed to clear the first horseshoe and continue through the rest of the course.
If you prefer a forceful launch with your cheeks pulled back like putty, this is probably not the ride for you. But it's just one trade-off in return for a much longer ride cycle, bonus airtime on the reverse spiral and both forward and reverse motion.
A Hybrid Train with spinning seats.
DC Rivals Hypercoaster generated much chatter when it was announced that you could ride it in the rear row facing backwards, with guests paying around $15 each for the privilege.
Dreamworld have taken this concept to another level by making the seats spin, utilising the world's first installation of Mack Rides hybrid train. Branded "Tailwhip", it'll almost certainty be an additional fee experience, but one that's sure to be a hit.
Tailwhip won't be unique in the world for long however, with Blackpool Pleasure Beach in the UK announcing a spinning pair of seats will be installed on their Icon launch coaster for 2022.
It's no great stretch to say that Steel Taipan will the best roller coaster Dreamworld has ever launched. Even before it opens it's safe to say that it will be the best multi-looping coaster in Australia.
Dreamworld has a lot riding on this major new ride, and with borders set to reopen in the near future, Steel Taipan will be the hottest attraction at the Gold Coast this summer.
---
---
Recent articles
Now trending