Parts arrive for Wet'n'Wild's latest
Track has been spotted outside Wet'n'Wild Water World as the water park prepares for vertical construction on the first non-water-based attraction in the park's 22 year history - a half pipe roller coaster.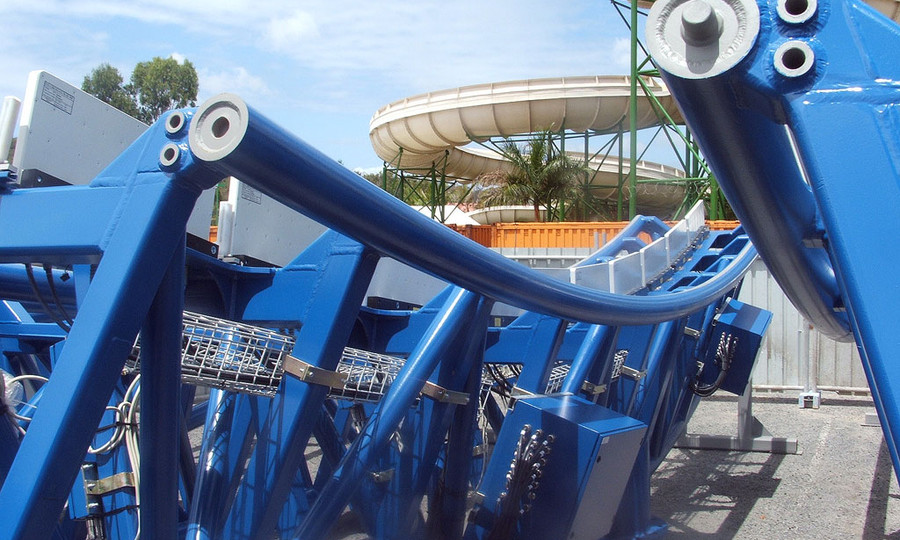 In a bold move for the Gold Coast water park, Wet'n'Wild prepares its latest attraction for construction, a 'Half pipe' roller coaster from Swiss manufacturer Intamin AG. It's the first time since the park opened that a traditional theme park attraction has been built, with such rides typically reserved for Warner Bros. Movie World next door or Sea World.
In fact early reports suggested this ride was due for installation at Sea World but one thing led to another and Village Roadshow Theme Parks needed to find a home for the multi-million dollar attraction which the company had already signed off on.
Whether it's the opening of competing water park WhiteWater World, or just an attempt to boost the offerings of the year-round water park in the traditionally weaker winter months, Wet'n'Wild was the chosen home for the ride worth around $5 million. It's unknown if the typically barefoot and soaked guests in the park will be affected by the introduction of a ride that at other Gold Coast parks would be ridden dry and require footwear.
It's not the only roller coaster due to launch in Australia this year. Intamin, who in the past have built rides such as Superman Escape, The Claw and Giant Drop, have also announced that they will be installing an accelerator coaster like Superman Escape at Dreamworld, with one important difference - Dreamworld's version will feature Intamin's take on motorcycle-style seating.
The half pipe coaster is a giant U-shaped track which features linear-induction motors that rock the 16-seat vehicle - which can only be described as a giant skateboard - back and forth along the track, picking up speed and creating unique g-force sensations, all while the riders gently spin. Intamin themselves liken it to snowboarding without the bruises.
---
---
Recent articles
Now trending