Tower of Terror in reverse?
Dreamworld is set to upgrade one of one of their "big six" rides this year, with reports suggesting a 180º switch of the Tower of Terror's 15-person car may just be the ticket.
There's been a lot of speculation about what ride at Dreamworld will be receiving some work. Of the "big six" thrill rides (or is that "big" six "thrill" rides?), some look pretty likely and others don't.
The Claw and Cyclone are fine. Wipeout sounds like it's falling apart, but evidently it's still good to go. The only improvements Mick Doohan's Motocoaster could use start with an allen key, and end with one hell of a parcel on the next boat to Switzerland.
With that reasoning, one can look to Giant Drop and Tower of Terror as reasonable candidates. There's plenty that can be done to either of this thrilling companion that might just be the only two rides at Dreamworld that fit the "big six" moniker. Many similar Intamin Giant Drop rides have had their gondolas upgraded to more intense tilting and standing versions. A gondola upgrade to Giant Drop and all-round improvements to improve the ride's efficiency and add more thrill to the already white-knuckle ride would be welcome, but that doesn't seem to be on the cards for 2010.
Instead, Tower of Terror seems to be the likely candidate. Parkz is hearing reports that the plans include some general improvements to the ride's aged appearance, and a repositioning of the train to include a backwards launch.
The backwards launch would mean riders get one hell of a view for those six-odd seconds of pure floater airtime.
At its core it sounds as simple as picking up the 15 person car and rotating it 180º. But it most likely won't be that simple. The force of the launch is intense; with an unsupported neck, one could expect queues at first-aid to be worthy of an Australian park (thank god for Q4U!).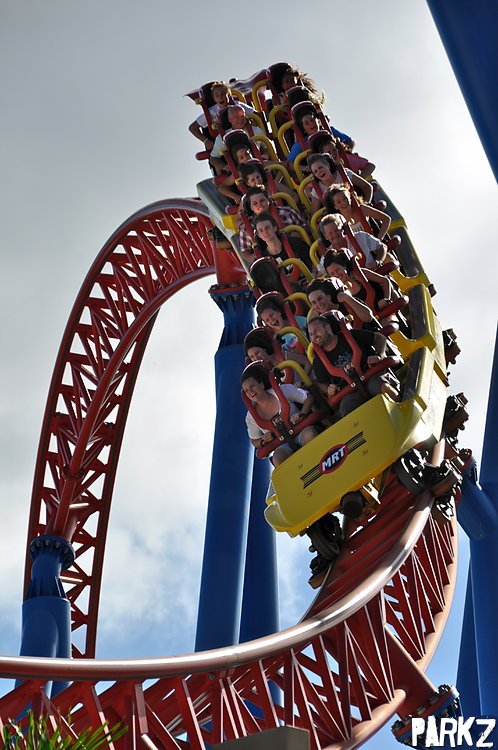 Instead, say goodbye to the
ejection-prone
lapbars that science has proven contribute 3/8ths of the thrill of Tower of Terror, and hello to Intamin's bulky-yet-safe shoulder restraints that were first seen in Australia on Superman Escape. The switch from minimal lap-bars to restrictive shoulder restraints would also likely clear up any lingering questions about the ride's safety in a cautious era that has seen many major rides in Australia fitted with secondary restraints such as seatbelt latches.
Whether the upgrade will also see changes to the ride's dated launch system is unknown, but as the ride ages, reliability will surely be an ongoing issue that they may like to nip in the bud with a hydraulic launch or upgraded LSM system.
And as if to add fuel to the fire of speculation, Superman The Escape in California, an essentially identical but twin-tracked version of Tower of Terror is rumoured to be having one half transformed into "Bizarro", with the train facing... yep, backwards.
Confirmation of these plans is yet to come from the park, but as far as upgrades to any of these six rides go, Tower of Terror's train in reverse seems quite worthy of months of hype.
---
---
Recent articles
Now trending