Tail Spin coming to Dreamworld
Dreamworld have unveiled details of the new thrill ride for 2014. The Gerslauer Sky Fly will be named Tail Spin.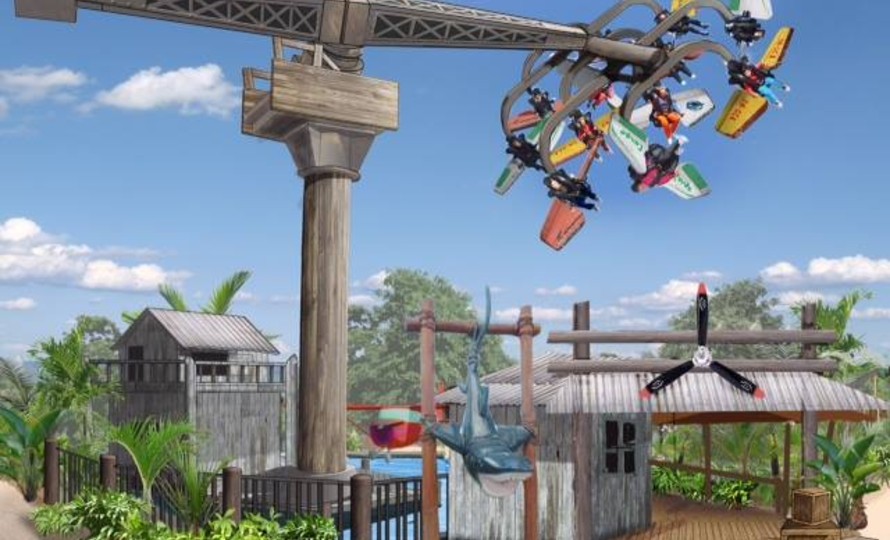 Tail Spin will be the first of its kind in Australia. Touted as the ninth thrill ride under Dreamworld's ever-expanding Big Thrill Ride banner, the attraction from German manufacturer Gerstlauer is part of a $2.5 million expansion that also includes WhiteWater World's new slide Triple Vortex.
Parkz first reported that Dreamworld was building a Sky Fly in our July 8 Parkz Update, but the park has officially confirmed this with the low-key reveal taking place today on page 30 of Brisbane's Sunday Mail newspaper.
Dreamworld's CEO Craig Davidson told the Sunday Mail: "It has enormous potential because every time you go on it the ride can be different. If you want to just sit there and not touch anything, you'll still get a great thrill ride, but once you learn how to use the controls you can customise it to perform some pretty extreme maneuvers."
The rider-controlled maneuvers can range from sitting still to gentle rocking back and forth to continuous spiralling. While sitting there and not touching anything will make the ride possibly the most sedate experience in the park – hardly a ride worthy of the Big Thrill category – the possibilities for those more adventurous can push this ride into fairly intense territory.
Of the intereactive nature, Davidson told the paper: "It's a ride people will want to ride again and again." With a maximum capacity of 240-360 people per hour – about half that of every other Big 9 Thrill Ride at Dreamworld – re-riding will mean braving a particularly slow-moving queue with only twelve riders admitted in each 2-3 minute cycle.
At 22 metres in height the ride will fall between neighbouring flat rides Wipeout and The Claw, making the flight-themed attraction the sixth tallest ride in the park.
Tail Spin is set to open at Dreamworld this September.
Sponsored by : Coles Catalogue | Woolworths Catalogue | ALDI Catalogue | Big W Catalogue | Kmart Catalogue | IGA Catalogue | Target Catalogue
Featured in this article
---
Recent articles
Now trending