Village Roadshow Theme Parks launching Unlimited Membership ticket plans
In a move that is set to significantly change theme park ticketing in Australia, Village Roadshow Theme Parks have unveiled an 'Unlimited Membership' ticket option that grants unlimited access to the company's three Gold Coast theme parks on a 12 month plan, likely to be billed on a monthly basis.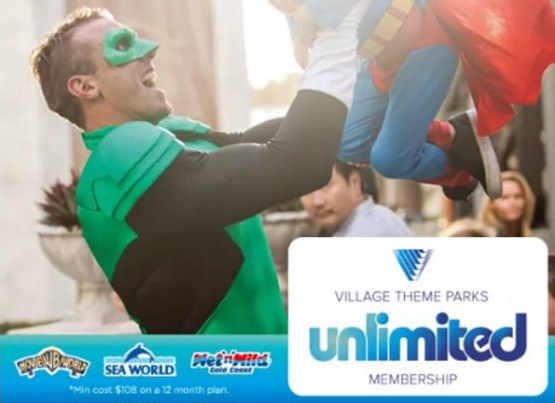 Village Roadshow Theme Parks gave a glimpse at future ticket offerings as they launched (and then retracted) a Facebook ad campaign for an Unlimited Membership plan.
The advertisement price was a minimum cost over 12 months of $108 for the Unlimited Membership Pass, indicating a monthly fee of $9. For this fee, the ad suggests members will have unlimited access to Sea World, Wet'n'Wild and Warner Bros. Movie World, plus access to the latter's after-dark events.
This new move towards a membership system would see yearly theme park ticketing become more like a gym membership, phone contract or pay-TV subscription. Instead of purchasing an annual pass that has a fixed expiry date – generally around June 30 each year – customers will instead enter a contract for 12 months that will likely direct debit a monthly membership fee.
The introduction of a membership-based ticketing system possibly means that they will continue to allow access indefinitely – and incur monthly fees – until members cancel their membership. Much like any contract-based service, one can assume there will be penalty fees for early termination within the 12 month period.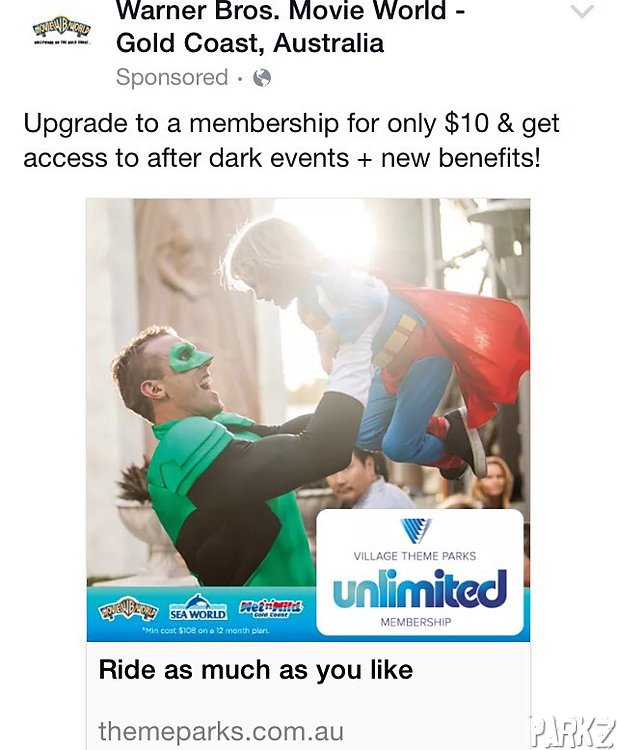 Early advertising for the Unlimited Membership on social media captured by a Parkz member suggests that the new Unlimited Membership will allow entry to Warner Bros. Movie World's after-dark events including Fright Nights, White Christmas and Carnivale.
For the 2015/16 season, VIP Passes sold have not included access to these events and VRTP have not yet indicated how tickets for these events will be handled for existing VIP Pass holders. Today's advertisement suggests a $10 upgrade option to the new membership system that will include access to the evening events.
It is unclear if the VIP Pass will be still be offered once the Unlimited Membership launches, or if there are any other pricing changes to come in the near future.
Today Village Roadshow Theme Parks also unveiled a new-loook homepage for ThemeParks.com.au, the organisation's ticketing portal. The page still advertises VIP tickets, as well as 7 and 21-day options for tourists. The new homepage thus far has no mention of Unlimited Membership.
For Village Roadshow Theme Parks the new pass offers many incentives such as improved cashflow throughout the year and it allows them to offer a product that doesn't diminish in value as its expiry date nears like the VIP Pass. If memberships are active until cancelled then customers are more likely to keep their pass active beyond the 12 month contract for the low ongoing monthly fee.
Ardent Leisure, owners of Dreamworld and WhiteWater World, are still offering their equivalent standard annual passes, with no indication given of a shift like VRTP's Unlimited Membership.
It's unclear when the Unlimited Membership will launch after today's false-start with Facebook advertisements. The buy-three-get-one-free VIP Pass offer has continued today after it was expected to end yesterday.
Featured in this article
---
Recent articles
Now trending