Construction fences up as thrill ride rumours fly at Movie World
As the peak summer season winds down, fences have sprung up across Warner Bros. Movie World while international rumours add fuel to local speculation.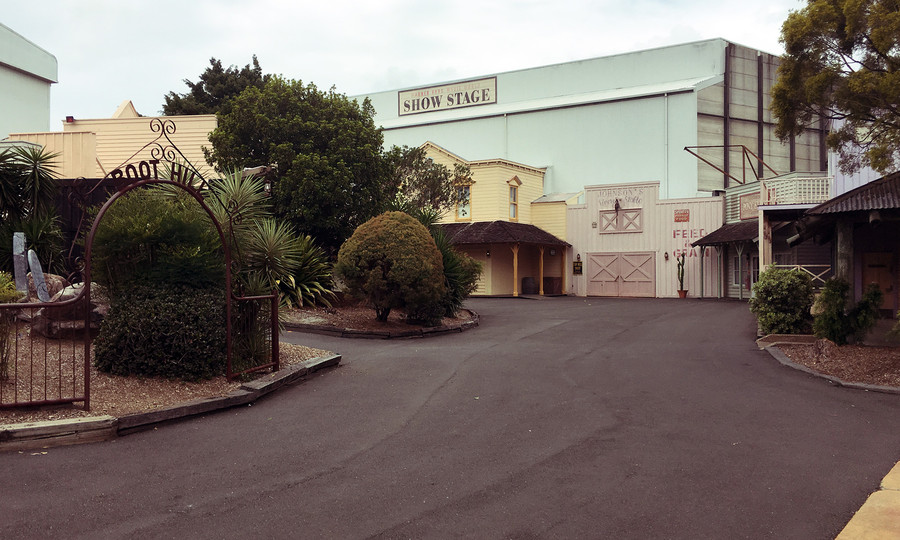 Reports and photos from Parkz members have suggested that the Boot Hill Graveyard and western area, as well as a small section of the courtyard outside Rick's Cafe have been surrounded by construction hoardings.
The Rick's Cafe construction looks to be routine cosmetic/maintenance work on the building facade. A new blue fibre cement wall featuring a Moroccan inspired archway is already in place awaiting finishing touches.
The second area to be fenced off however is a more substantial segment of the park. Comprising the Boot Hill Graveyard and the seldom-used Western Show Stage and surrounding western area, the fencing has only added fuel to speculation that started when Village Roadshow co-Chairman Robert Kirby spoke of a forthcoming announcement.
"In the coming months, we will be announcing an exciting new attraction for the Gold Coast which we expect will be one of the world's best theme park drawcards," Mr Kirby told the audience at the organisation's annual shareholder meeting in November 2015.
This announcement-of-an-impending-announcement made no mention of roller coasters or even rides, but coincided with revelations of a Gold Coast City Council development application for the construction of a roller coaster at the Oxenford home of Movie World and Wet'n'Wild.
The impending works in the western area would point to an attraction opening in late 2016 based on previous construction timelines at Australian theme parks.
RCDB – the world's de facto source for roller coaster information – meanwhile indicates that Movie World's new roller coaster will be opening in 2017, not 2016 as construction fencing or Mr Kirby's teaser suggests. They list the ride as a Steel, Sit Down and Extreme roller coaster with no details of the manufacturer or type. RCDB are not prone to speculation; they have a 20-year history of only publishing information that is verified, officially announced or otherwise public knowledge.
Parkz members have pointed to a Theme Park Review discussion speculating that it is a Mack Rides GmbH coaster coming to Movie World, though the post offers no source or further corroboration.
Mack Rides is the company behind Movie World's Scooby-Doo Spooky Coaster and Sea World's Storm Coaster. While traditionally a builder of family-oriented roller coasters the company has branched out in recent years into areas that could be considered extreme. The company has built extensive launched coasters – Europa Park's Blue Fire has become an off-the-shelf design that combines a 0-100km/h launch with a twisted layout featuring three inversions.
The German company also offers more traditional coasters featuring lift hills, both with and without inversions. Their largest roller coaster to date is the 61 metre tall, 1273m long Flash that opened at Lewa Adventure in China earlier in 2016; this ride takes the traditional out-and-back hypercoaster ride style and adds a loop and zero-g-roll.

2016 will also see Mack Rides unveil Lost Gravity at Walibi Holland. The ride features two-row, four-across cars somewhat similar to those on Green Lantern at Movie World, with both rides using the overhanging seats to maximum effect.
Aside from the comments from their parent company, Village Roadshow Theme Parks have made no announcement yet of their plans for 2016 – or 2017 for that matter. Storm Coaster was advertised at Sea World for over a year prior to its opening. At the same time however the ill-fated Wild animal attraction was advertised but never eventuated.
If speculation and development applications come to fruition, Warner Bros. Movie World will add its first new thrill ride since 2011's Green Lantern Coaster. The theme park opened the family ride Justice League: Alien Invasion 3D in 2012 and the kids' driving attraction Movie World Junior Driving School in 2014.
---
---
Recent articles
Now trending