DC Rivals HyperCoaster is Australia's best ride ever
Make no mistake about it: Warner Bros. Movie World have delivered a roller coaster that is undeniably one of the best in the world. The ride ticks every box and delivers a level of sheer thrills and sustained excitement that is unlike anything ever before built in Australia.
DC Rivals HyperCoaster quietly opened on Saturday at Warner Bros. Movie World, the first day of the September school holidays.
There was little fanfare though by mid afternoon a crowd of several hundred had gathered at the ride's entrance awaiting the ride's public debut.
It wasn't quite a scene from the Boxing Day sales with Movie World staff putting their best crowd control tactics to use. One by one guests were let through to dart towards the ride in the name of fame, glory and bragging rights on the Internet that they rode it before others.
Few had the time or inclination to take in the queue's theming as they made a beeline for the station. DC Rivals HyperCoaster is light on the theming. After all, how does one effectively theme a towering, 1.4km long roller coaster?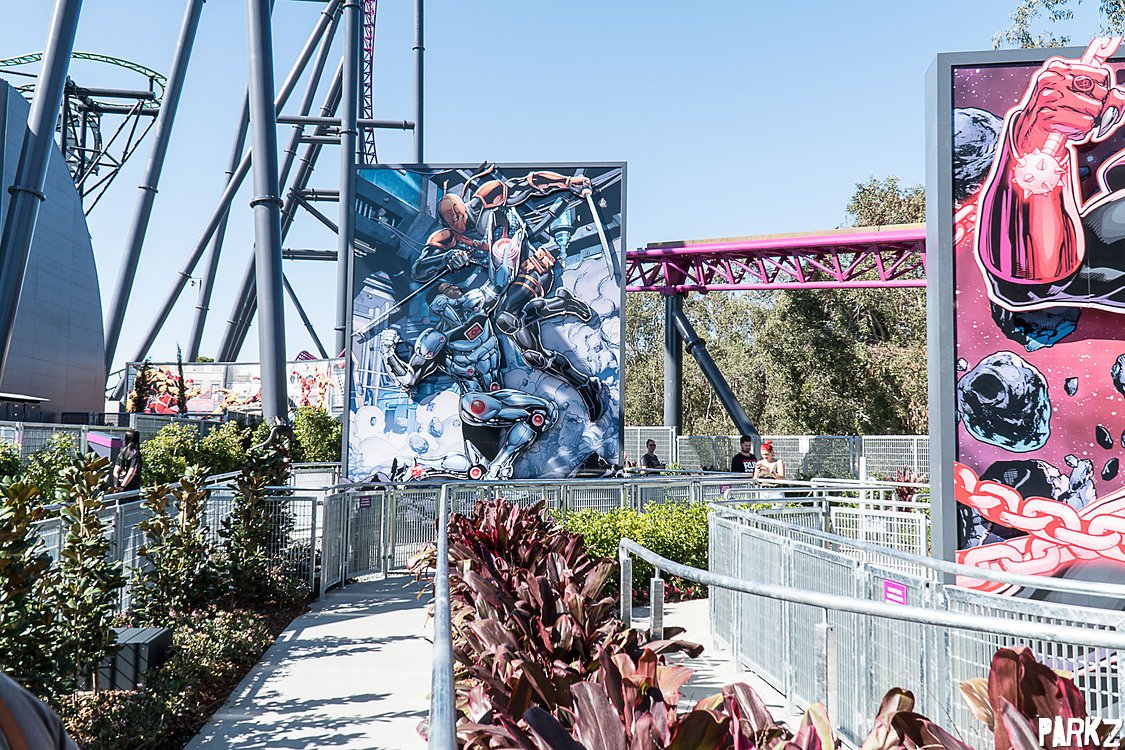 What it does have is a series of low-key "2.5D" billboards celebrating the famous rivalries of the DC Comics world accompanied by a cinematic soundtrack that builds to a crescendo as you move through the queue. The artwork fills the queue with colour and provide a subtle setting for the roller coaster which ostensibly faces Batman off against The Joker. Indeed the menacing face of The Joker sits atop the lift hill, though it is yet to be lit up.
But no one is here to take in the surrounds.
Let's not mince words: Rivals is the best roller coaster ever built in Australia. It is everything that Village Roadshow co-CEO Robert Kirby promised back in 2015.
After a surprisingly fast journey to the top of the 61.6m (202ft) lift hill you barely have a moment to take in the surrounds before that first drop. It's a genuine WTF moment as you plummet and twist down the 59.4m (195ft) drop. It's 85 degrees but try and tell your brain that it's anything but pure vertical.
And the airtime... you're out of your seat for the entire first drop, until the train scoops you up as you reach the ground.
The first camel back hill is an airtime monster. Parkz reported last week that there's 2.6 seconds of sustained airtime in this hill, but that's just numbers on a screen. Charging over that colossal hill is unadulterated airtime bliss.
It's backed up by the truly extreme non-inverting loop that is as bewildering as it looks. One moment you're thrust into your seat, the next you lose your bearings as you twist into the most sudden, intense moment of airtime of the ride. This isn't gentle floater airtime: in a blink you're thrown up out of your seat before twisting back to the ground. The ride goes all in at the top of the loop, offering a sensation that comes out of nowhere.
The Stengel dive is the closest thing to a moment to catch your breath but the overbanked hill offers a bizarre moment of sideways floater airtime... if such a thing exists. From here you head into the inclined dive loop, an unexpected high point that sets into motion a series of blink-and-you'll-miss-it turns that emphasise the speed and smoothness of the roller coaster.
Amongst this is the 480° helix wrapping itself through and around the non-inverting loop. Greying out is never fun and helices are infamous for it, but on Rivals it hits the sweet spot of intensity and enjoyment. Following the helix is a series of snappy, rapid-fire turns – think Jet Rescue – before things get serious yet again.
It's the final straight where Rivals earns its place as a bona fide, world-class hypercoaster. At this point you think the ride is out of tricks that it's now a matter of just making our way back to the station in the most economical way possible.
Nope. The aggressive airtime offered through this last handful of hills will have even the most seasoned thrillseeker giddy with joy. The forces come out of nowhere, and make Rivals a perfectly rounded hypercoaster.
There's not much that the ride gets wrong... and that's without even touching on the experience of riding backwards, which is so indescribable that we'll state as plainly as we can... you must ride Rivals backwards. It's an additional cost ($10) but well worth it for this insane experience.
DC Rivals HyperCoaster is now operating at Warner Bros. Movie World. As with any new ride it may experience unexpected delays during this period of so-called technical rehearsals, but take your chances and get along to ride it as soon as you can.
Pro Tips
Experience the front row. Nothing beats the unimpeded view and the sheer feeling of freedom.
Ride it backwards. Not for the faint-hearted or weak-stomached, but this will set a new standard for theme park thrills. You must experience this sensation of pure fear and confusion.
Ride in row ten. This is the pick of seats if you're after the most forceful, exciting experience.
Grab your $89 VIP Magic Pass through Groupon... save money and support Parkz.
Featured in this article
---
Recent articles
Now trending