Parkz News
Photos Parkz News has uploaded
Here are all of the photos that Parkz News has uploaded.
A departure board in the foyer, hinting at the places you'll visit during the ride.
Inside the ride area. Long rows of seats face out into a void with a giant screen.
The rather wavy ride exterior.
A separate sideloader truck accompanies the first truck to lift the container off and onto the ground.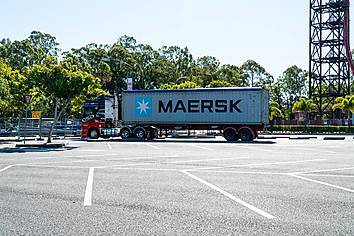 As soon as one shipping container is emptied in the fenced off staging and storage lot, another is brought in for unloading.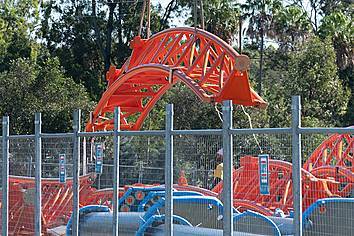 It's still not clear when the roller coaster will be built given Ardent Leisure's ongoing financial uncertainty and the global situation with COVID-19, but at this point Dreamworld have to unload and store parts for an attraction that's already making the long shipping journey from Germany piece-by-piece.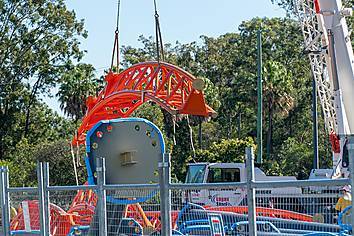 There's not a whole lot of twist to these upward-curved pieces of track unloaded so far, so there's a good indication they'll form part of the vertical loop, one of the few sections of the ride to not feature side-to-side twisting.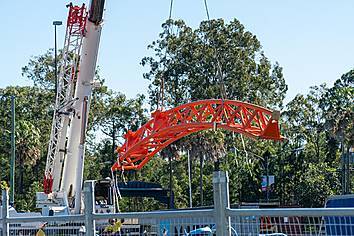 Another piece of very curved, straight track is unloaded.
The tops are open to allow cranes to lift the pieces of track from the containers.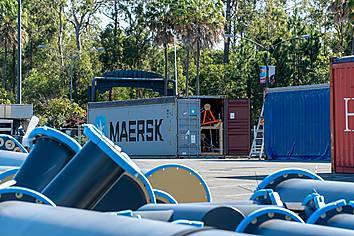 More track awaits unloading from open-topped shipping containers.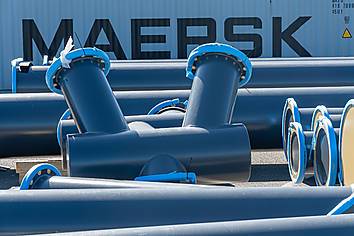 Lots of interesting columns like this one will be dotted around to support the spaghetti bowl of track once built.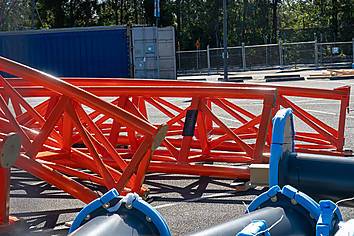 Bold and undoubtedly very visible from the highway once assembled. Though not a whole lot in common with its presumptive namesake taipan snake.
Once again Logan Steel are tasked with assembling this flat-packed array of steel into a world-class roller coaster. This local company has built many of the Gold Coast's past roller coasters including DC Rivals HyperCoaster.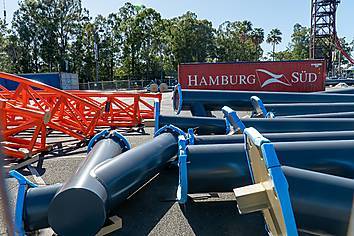 The colour scheme of the ride is very bold and industrial with contrasting dark grey support columns and "high vis" orange track.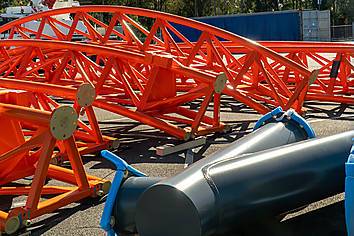 The latest is this bright – very bright – orange track.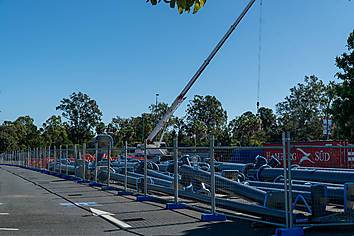 More and more roller coaster parts from Mack Rides fill the car park at Dreamworld.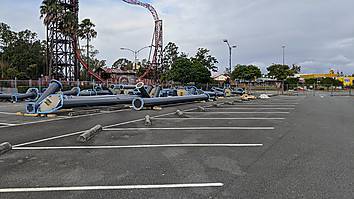 The completed coaster will undoubtedly become the best ride at Dreamworld, promising a launch, inversions, fast pacing and a good lengthy ride.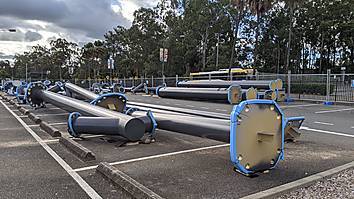 In a battered and bruised Australian theme park industry, this ride was meant to be the light at the end of the tunnel, but it looks like we will all be waiting a little bit longer.
Almost midway through 2020, with no major groundwork, an uncertain global situation and stretched finances at Ardent, any hopes of an opening this year are all but gone.
The new coaster will permanently change this part of the Dreamworld skyline, the question remains, when?