Movie World's new ride Doomsday Destroyer: a look at the Suspended Twin Hammer
Warner Bros. Movie World's new ride Doomsday Destroyer is a "Suspended Twin Hammer" ride from Intamin AG, the Swiss ride manufacturer behind Superman Escape, Tower of Terror, Giant Drop and several other Australian classics.
Those hoping for something unique along the lines of these legendary rides – or even something a bit more sedate like Sea World's Jet Rescue or Dreamworld's Motocoaster which Intamin also designed – might be disappointed that Doomsday Destroyer is perhaps the most standard amusement ride Warner Bros. Movie World has ever installed.
Where Movie World need to make their mark – and probably will with their track record – is by turning the fairly standard ride into an immersive, themed experience.
The second element of the attraction is the ride itself, which is called the Doomsday Destroyer; it is a huge looping attraction. It's over 20 metres high, very high speed, very high thrill, there'll be parts of the ride where you're completely inverted so it's a very exciting attraction for us.

Greg Yong, Warner Bros. Movie World General Manager to Brisbane Times
No, it's not a roller coaster. but Movie World is home to five roller coasters – more than any other theme park in Australia – and has one on the way next year.
The simplest explanation is that a Suspended Twin Hammer is basically a modern take on a classic pirate ship attraction. It features two duelling arms that are capable of rotating 360° and are able to make manouvers that are much more swift and controlled than a pirate ship of yesteryear which are known for their lurching and groaning, tyre-controlled movement.
They're capable of customised ride cycles – beginner, intermediate and advanced levels of thrill for example – and so give the opportunity for a choose-your-level-of-thrill that has been a selling point of Dreamworld's two most recent thrill rides Tail Spin and Pandamonium. Each of the arms see riders sit in four groups of four back-to-back with feet dangling.
With a total height of 21 metres at the peak inverted position, it's about comparable to Tail Spin's highest point or even the final drop on Wild West Falls.
First of its kind in Australia
Intamin AG have only built one of the same ride, Space Attack at Malaysia's Berjaya Times Square Theme Park. It was listed as Under Maintenace Until Further Notice from at least April to July 2015 (web.archive.org) but is no longer listed on their website as a current attraction. As such, Doomsday Destroyer is set to be the only Intamin Suspended Twin Hammer in the world when it debuts later this year.
Other manufacturers do build very similar rides; the Netherlands' Vekoma debuted the Air Jump in 1997 and only one remains, Fuji-Q Highland's Panic Clock.
Italian manufacturer Zamperla offer Hawk, seen in action with Pennsylvania's Kennywood in Aero 360.
An immersive experience
Movie World are promising a completely expansive, immersive themed area to surround the ride. As a standalone attraction it might not be much more than a high-tech take on a carnival classic, but land is cleared and structures are going vertical for the new DC Comics Super-Villains Unleashed area, and it's anything but small.
The park has promised that the area will give guests the chance to interact with more than just the ride's namesake Superman nemesis Doomsday. "Each of the villains will have their own little streetscape, and you will be able to interact with those villains in all different ways," Movie World GM Greg Yong told the Brisbane Times.
Immersion will be the key to this area, and no doubt the very reason that Doomsday Destroyer wasn't launched as simply a standalone ride in the existing DC Comics precinct. Interacting with a streetscape echoes the way that Universal brought the Harry Potter films alive at its theme parks with the Wizarding World of Harry Potter, where guests can (by purchasing a USD$39.95 wand) cast spells to set into motion all sorts of effects and tricks.
Each of the villains will have their own little streetscape, and you will be able to interact with those villains in all different ways.

Greg Yong, Warner Bros. Movie World General Manager
By giving guests more to see and do that doesn't involve queuing, Movie World can offer something that it distinctly lacks compared to Dreamworld and Sea World, which both heavily feature wildlife attractions. It's an important step to getting the theme park out of the half-day rut that often sees it unfavourably compared with Dreamworld despite offering a higher standard of rides in its roster.
Roaming characters will also no doubt feature heavily and add to the interactive nature of the precinct; The Joker, Catwoman and Harley Quinn are already staples of Movie World's collection of costumed entertainers.
Dreamworld only started clearing land in June for the September opening of Tail Spin. It's only April and most ride parts have arrived, foundations are in place and theming is already well underway – indicating that a lot of work for the surrounding area lies ahead.
A welcome capacity boost
Movie World has in many ways become a victim of its own success, and affordable annual passes have meant that the park is consistently busy throughout the year. Doomsday Destroyer has a theoretical hourly capacity of 720 riders per hour and by its nature as a simple-to-operate flat ride will be able to offer consistent high throughput all year round.
They may only operate with a single 16-rider gondola during slow periods, but unlike Superman Escape which must have its second train ready and staff rostered to ramp up throughput, Doomsday Destroyer will likely be able to adjust its its operating capacity as required.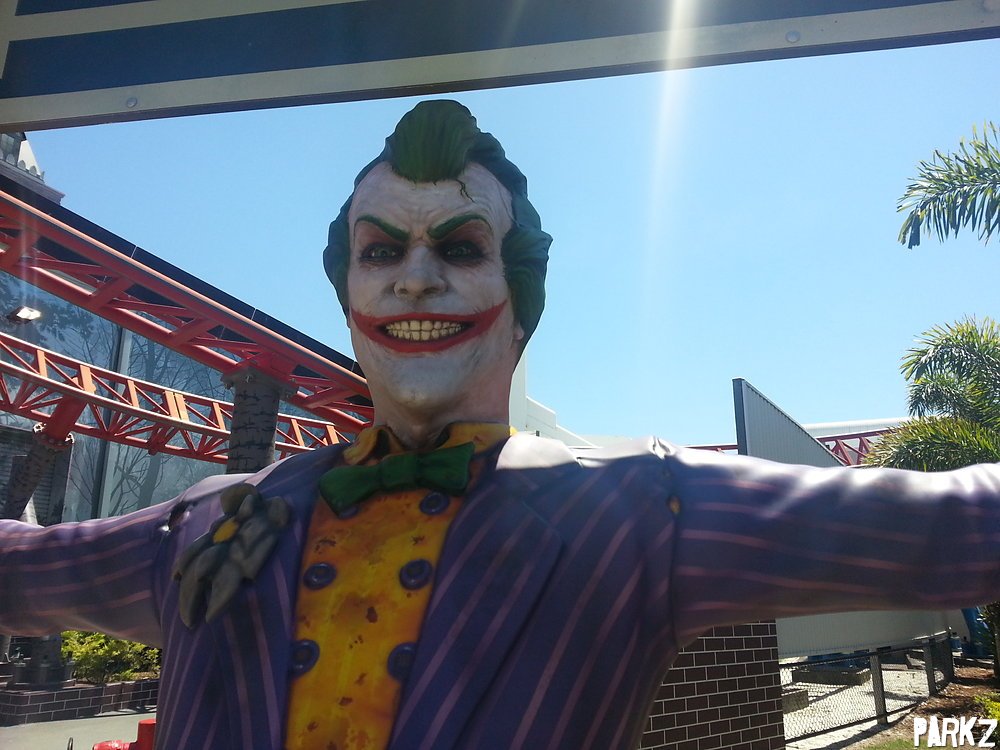 Its location at the rear of the park will also have the benefit of moving people away from the current focal points and bottlenecks of Main Street and the existing DC Comics area. Spreading guests out is often all it takes to take the edge off a busy day; Dreamworld rides are all quite low-capacity, but the park's large layout means that it seldom actually feels busy wandering around.
Doomsday Destroyer and DC Comics Super-Villains Unleashed are currently under construction at Warner Bros. Movie World and due to open in October 2016. It is set to be the first in a number of new attractions to debut over the next few years, including a roller coaster due in 2017.
Featured in this article
---
Recent articles
Now trending