First look at Dreamworld's new world-first spinning seats
As construction gets underway, test footage has emerged of the new spinning seat feature that will feature on Dreamworld's new thrill ride.
Originally announced for a 2020 opening, Dreamworld's forthcoming major roller coaster has been plagued by uncertainty amid Ardent Leisure's coronavirus related financial difficulties early. Even as roller coaster track arrived from Germany earlier this year, Dreamworld management suggested mounting losses from lockdown closure meant they didn't have the capital needed to physically construct the ride.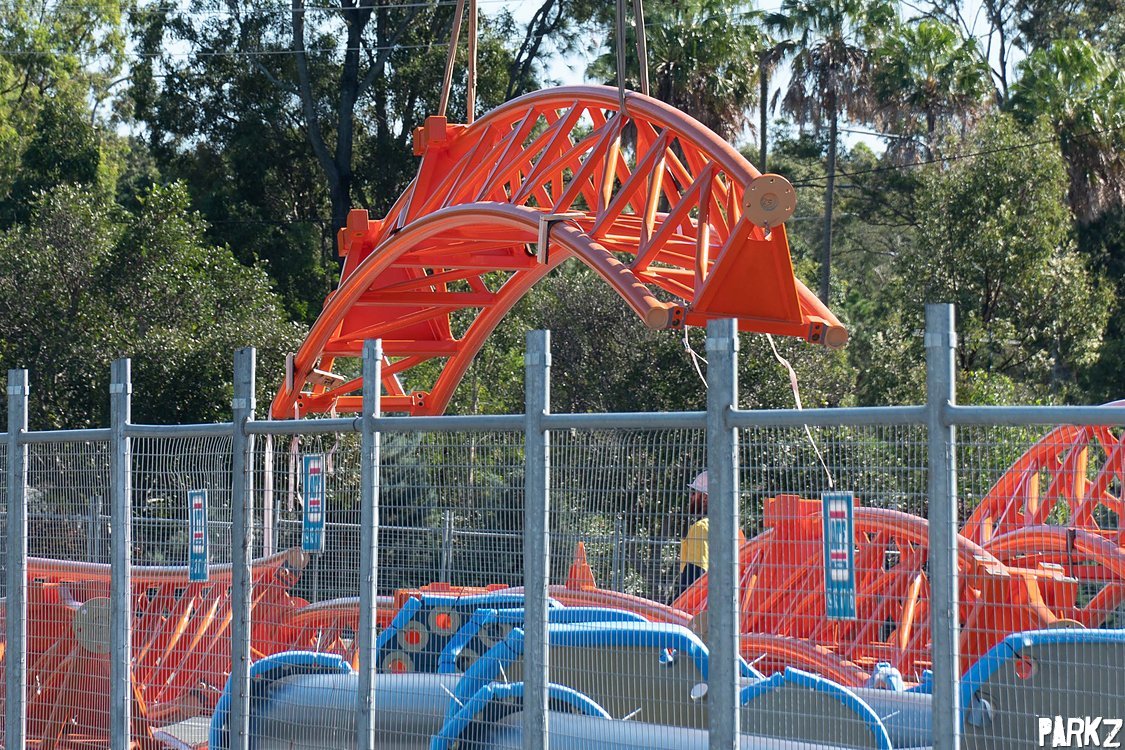 Months later finance was finally secured that enabled the ride's construction to commence in recent days, Dreamworld look set to open their most expensive attraction ever in time for their 40th anniversary next December.
The roller coaster is yet to be officially named, though trademark applications suggest it'll be named Steel Taipan.
The roller coaster – a slightly revised version of the acclaimed 'Blue Fire' design which Mack Rides has sold versions of to nine other theme parks across the world – will notably feature a single spinning car that will allow riders to experience the 100km/hr launch, four inversions and twisted 1km long track while freely rotating.
The feature is widely expected to be an additional cost experience like DC Rivals HyperCoaster's rear-facing seats.
Mack have previously tested spinning cars on Blue Fire, the prototype version of the ride at their company-owned theme park Europa-Park when they were initially developing spinning cars for what became their 'Xtreme Spinning Coaster' attraction. New footage shot in June shows them trialling the feature once again in preparation for its implementation at Dreamworld next year.
Roller coasters with spinning cars are certainly nothing new, though Dreamworld's forthcoming roller coaster will be the first to feature the choice.
Mack note that the amount of spin can be controlled by magnets so it's likely that the end result at Dreamworld will be fine-tuned to provide a balance between sheer intensity and stomachability for the average thrillseeker.
Even tamed with magnets the spinning seat experience will surely be an intense and truly disorienting addition to a roller coaster design already famed for its unrelenting experience.
Read more: Dreamworld's new launched roller coaster puts them back in the game
With construction finally underway, Dreamworld's new roller coaster is expected to debut in late 2021. It'll be one of two major roller coasters on the Gold Coast vying for attention next year with construction of the Leviathan wooden coaster now dominating the Sea World skyline.
---
---
Recent articles
Now trending