Australia's top rated theme park rides and attractions for 2016
The results are in: with more than 500 member ratings and reviews and some 23,000 theme park "check-ins", Parkz can reveal the best theme park rides and attractions for 2016.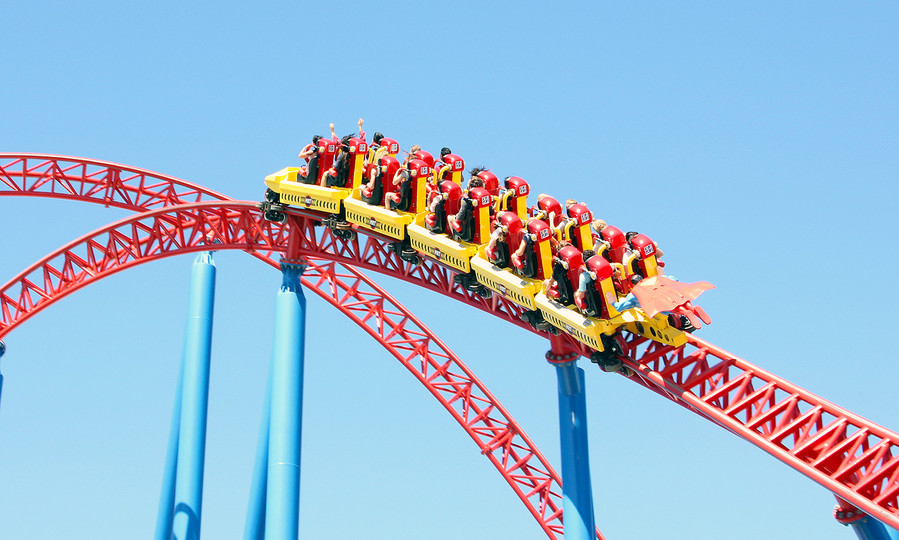 The Parkz theme park and ride database is home to more than 3,000 attractions across the globe. Parkz tracks visitor check-ins and reviews to present a balanced, constantly evolving ranking of attractions. It's the largest collection of theme park and tourist attractions in Australia with more than 500 theme parks, rides and attractions listed.
We've tabulated the results for 2016. The Gold Coast theme parks dominate the Top 10 list with a wide range of thrill rides and family attractions. It's unsurprising considering the region's attendance and expenditure on new attractions is more than all other theme parks in Australia combined, but it certainly further reinforces the ongoing importance of the Gold Coast's theme parks as industry leaders.
5. Jet Rescue (Sea World)
One of the most forgotten rides on the Gold Coast, Jet Rescue is Australia's only double-launch roller coaster and features a tight, twisted course that is unrelenting start to finish, yet easily enjoyed by thrill seekers young and old.
Where Dreamworld's Mick Doohan's Motocoaster failed – its sluggish ride experience makes it the single lowest rated roller coaster in our database – Jet Rescue succeeds with its second launch and a ground-hugging layout that give it the speed and energy it needs to be a thrilling experience start to finish.
"A great, innovative coaster with a smart idea, good pacing and unexpected thrills. One of the best family coasters. The only problem is that the fantastic ride is over too quickly," said coasterdude44 in an 8/10 review.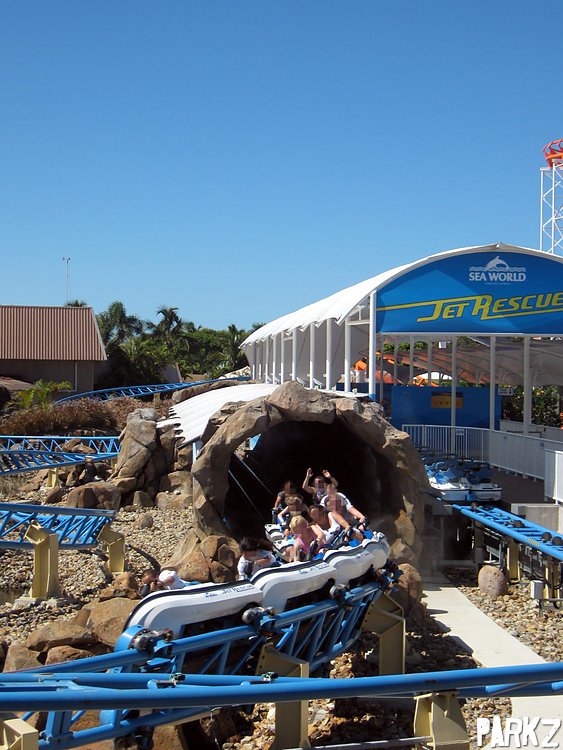 4. Giant Drop (Dreamworld)
Giant Drop is the oldest attraction in the top five on Parkz. Extreme thrills never get age though and it's not surprising that the 18 year old attraction is a popular one; it uses sheer height – it's the tallest ride ever built in Australia – to thrill.
"A beautiful nightmare at 377ft. Easily one of the most thrilling rides in Australia," said Parkz member Zanstabar in an 8/10 review of Giant Drop.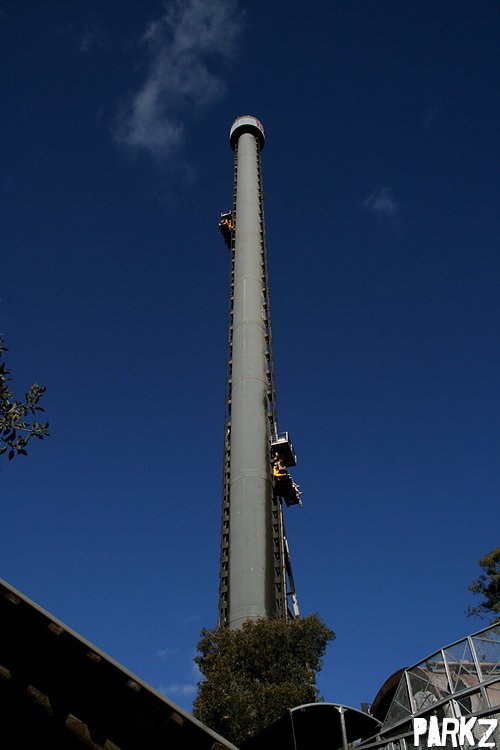 3. Doomsday Destroyer
Three-in-a-row for Movie World with Doomsday Destroyer coming in at third. New attractions always fare well as a result of months of anticipation. The only new thrill ride for 2016 might not be the intense spin-and-spew that some hoped for and others feared but it is its universal appeal – and incredibly immersive theme – that has won Parkz members over.
"Doomsday Destroyer is a excellent addition to the park, the theming in the new precinct is unbelievable, the new ride is great ride for people who want become thrill-seekers," said member Theme Park Ninja in a 10/10 review.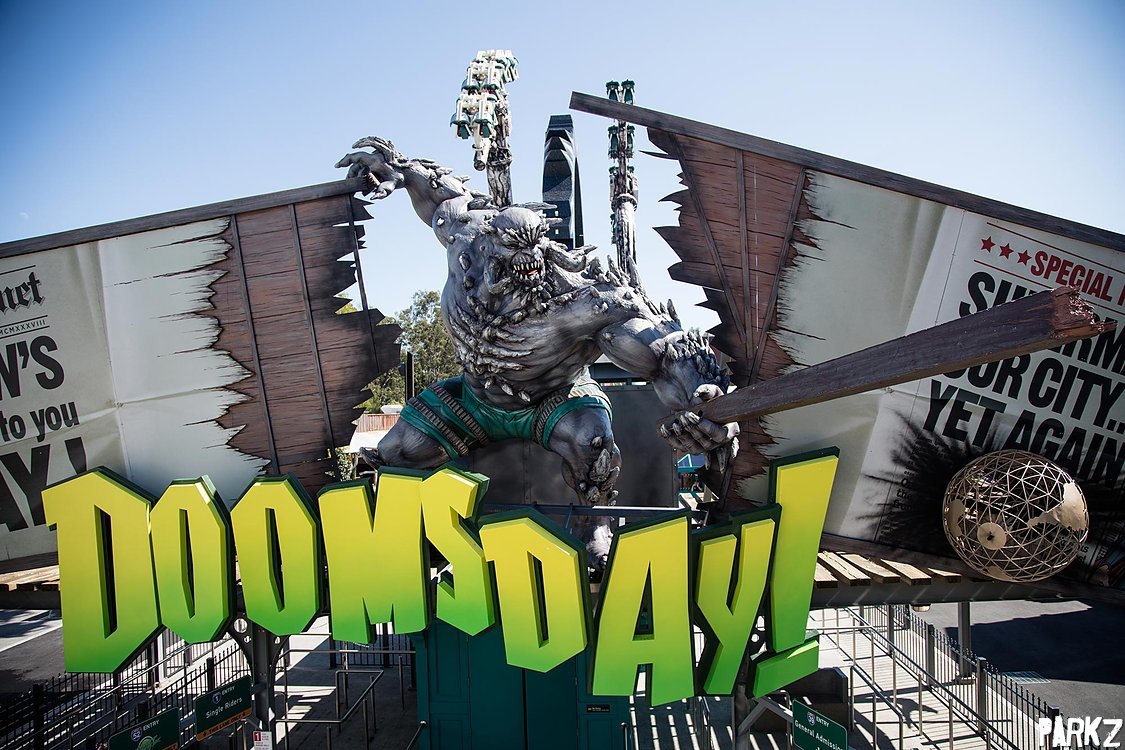 2. Star Tour - Access All Areas (Warner Bros. Movie World)
It's no surprise that Warner Bros. Movie World's flawlessly executed behind-the-scenes Star Tour was a winner. This premium offering (tours currently start at $299) are a theme park enthusiast's dream with an exclusive, in-depth look behind the scenes of the park's roller coasters and other entertainment offerings.
"This is something all theme park enthusiasts on the Gold Coast need to try - it's a phenomenal experience that caters to everyone," said Parkz member Santa07 in a 10/10 review of the tour.
Star Tour - Access All Areas may be too niche to remain this high in the Parkz leaderboard in the future, but for 2016 it was certainly the standout new experience.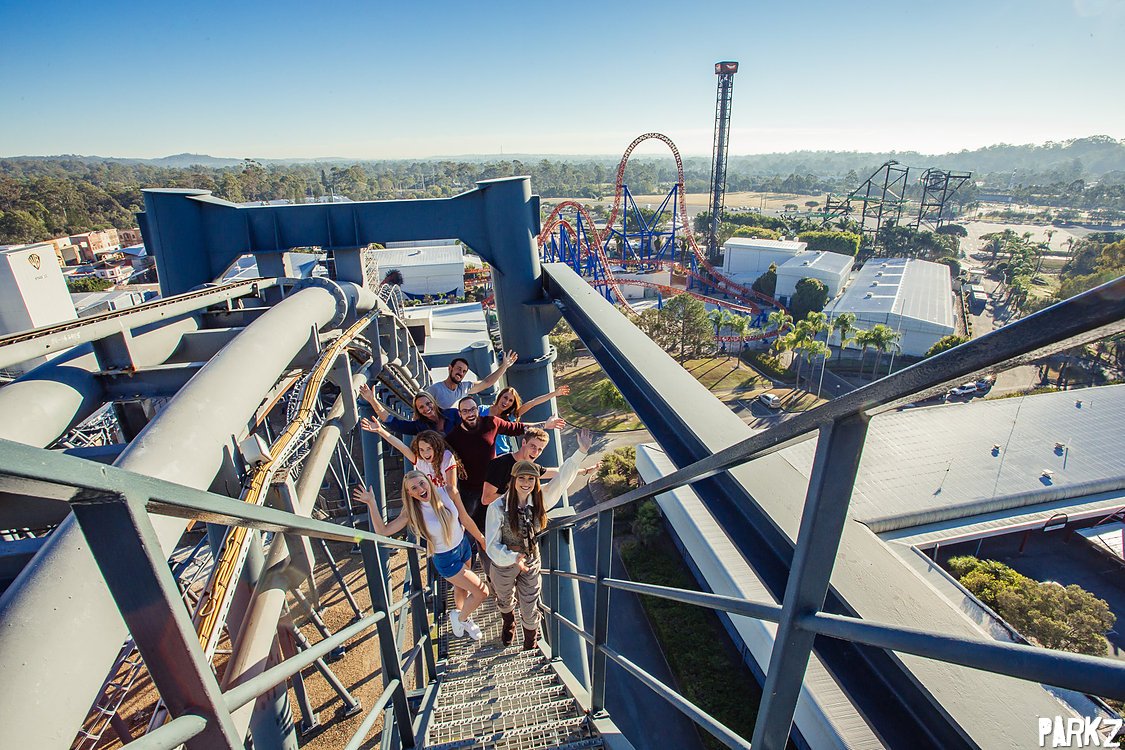 1. Superman Escape (Movie World)
Superman Escape maintains its longstanding dominance of Australian theme parks. It's an impressive feat for a ride now in its 12th year of operation.
"The coaster has amazing pacing beginning to end with an actual story that gives the ride actual meaning and context from the immersive start to the hair raising end. It really is something special," said Parkz member coasterdude44 in a 9/10 review of the ride.
The only upset for Superman Escape's dominiance of this field could be the Mack Rides-built hypercoaster currently under construction at Movie World that is set to be Australia's tallest and longest roller coaster. Village Roadshow (owners of Movie World) have said from the get-go that their goal here is a world-class attraction.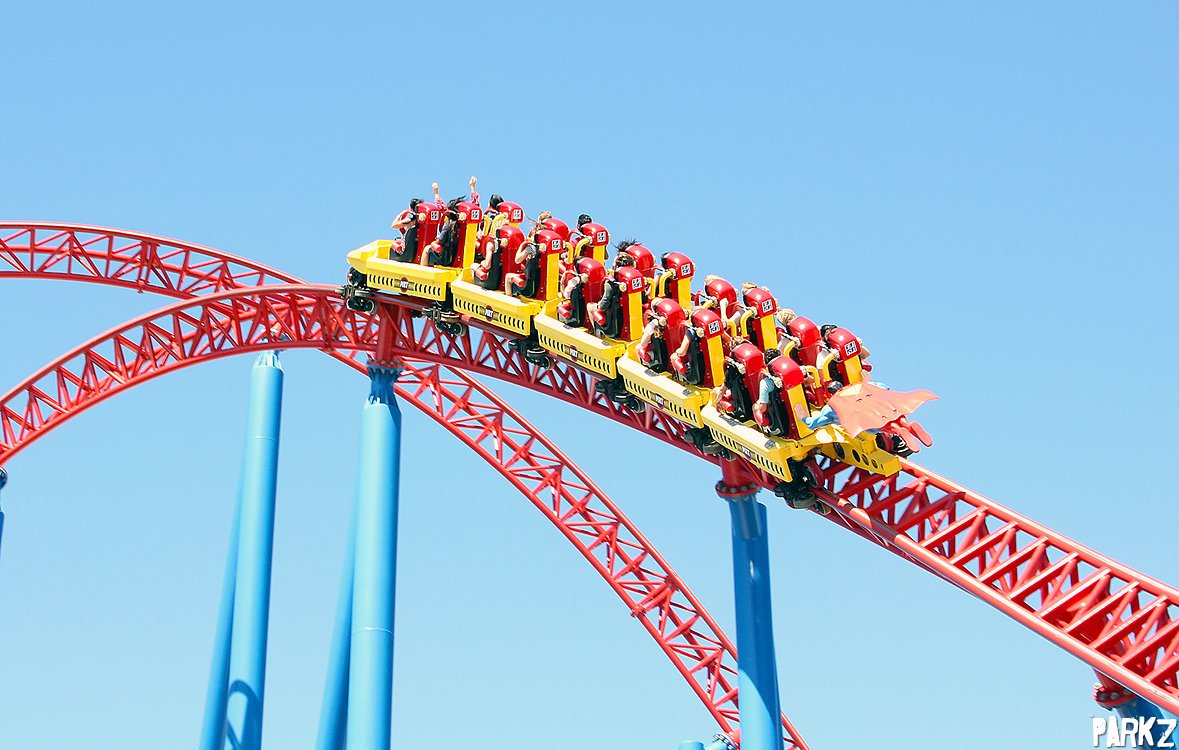 The back five
Rounding our our top ten we take a look at the next five rides and attractions that have received overwhelming acclaim.
6. Wild West Falls(Warner Bros. Movie World)
Coming in sixth is Wild West Falls, a ride that combines some of the best theming ever seen in Australia with an extended ride experience and an assortment of thrills that never get old. It culminates in a splashdown unlike any other in Australia making it little wonder why this is the top rated water ride in the country. Another oldie: it's hard to believe Wild West Falls debuted back in 1998.
7. Kraken (Adventure World)
We continue the water theme with the only water slide – and only non-Gold Coast attraction – to appear in the top ten. Kraken is touted as the world's longest, fastest and tallest Tornado slide; it features a total length of 260m and a total vertical drop of 30m.
8. Dreamworld Corroboree (Dreamworld)
The pace slows a bit for number eight. Dreamworld Corroboree, Dreamworld's expansive wildlife and cultural experience features countless native Australian animals from kangaroos and koalas to crocodiles and cassowaries. It's existed in various forms since 1987 when Dreamworld introduced Koala Country, before being significantly expanded in 2001 into the Australian Wildlife Experience. Dreamworld Corroboree launched in 2013 with the addition of a wide range of Indigenous experiences, demonstrations and shows.
9. Scooby-Doo Spooky Coaster (Warner Bros. Movie World)
Scooby-Doo Spooky Coaster: Next Generation might currently be a bit worse for wear with the temporary removal of all its themed elements, but this ride has rated consistently thanks to its immersive theme, thrilling ride experience and family friendly nature. It's also a reliably efficient ride that attracts huge crowds but always keeps the queue moving
10. Tower of Terror II (Dreamworld)
Like Giant Drop, Tower of Terror II is a rare record-breaking attraction. A major renovation in 2010 saw a new vehicle installed in reverse, completely reinventing the ride experience. Though it runs at speeds and heights far from its advertised 161km/hr and 100m it's still hard to deny that this ride offers some great thrills and is far more accessible to guests than the gut-wrenching thrills of Giant Drop.
Warner Bros. Movie World are the big winners
Movie World has gone from strength to strength with their new additions of 2016 and dominating five of the top ten attractions. By all accounts they will add another one to their dominance this year with Australia's first hypercoaster due to open in September.
Dreamworld's three entries in this year's top ten list offers two extremes: some of the biggest thrills and also the only experience and educational attraction to feature.
Our methodology
Any individual can join Parkz and check-in to rides and add ratings and reviews. These ratings contain a standalone rating out of ten, plus a rating of up to 17 different criteria that can include intensity, rider comfort, pacing, theme, upkeep, efficiency and many more. Together these criteria are designed to give a rounded picture of the ride experience and operations. Users are also invited to add longer text reviews to accompany their rating.
Parkz applies a Bayesian average to all ratings to determine each attraction's percentage score. This ensures that the final rating for each attraction takes into account how many times it has been rated, along with the average rating for all attractions in our database. The more individual ratings an attraction has, the more we trust that these ratings are correct.
---
---
Recent articles
Now trending