Pink track confirms the colour of Movie World's hypercoaster
One of the most asked questions about Warner Bros. Movie World's new roller coaster has finally been answered. With the first pieces of track showing up today we have confirmation of a decidedly pink coaster.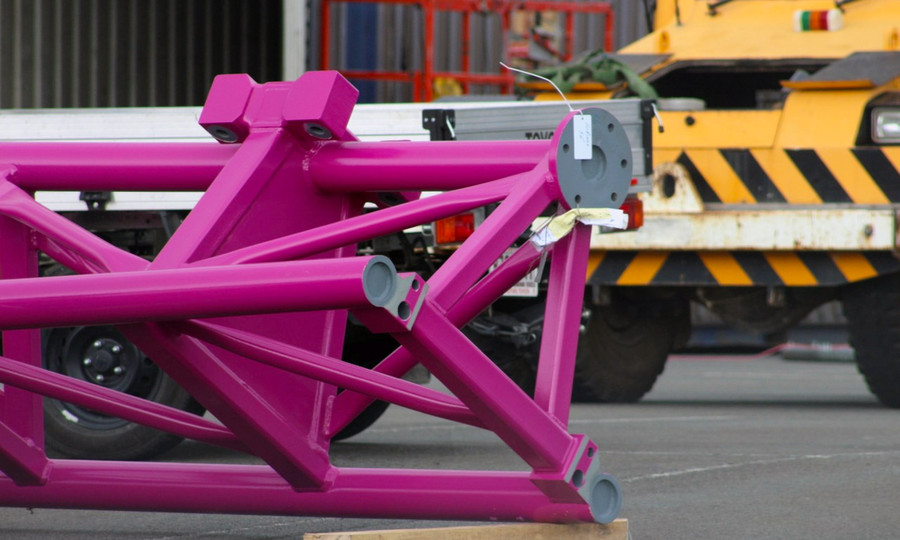 As if it wasn't already confirmed by the presence of Mack Rides crates and the manufacturer themselves, the track on site completely fits the standard design for the German ride company's large-scale roller coasters.
Though the colour of the track is as inconsequential for the physical ride experience as the colour of a car (though red coasters do go Superman faster), in recent years Movie World has used colour extensively as part of their roller coasters' themes. This bright pink track could be as telling of the theme as Superman Escape's iconic blue supports and red track.
Despite bright pink track – or is that magenta? – being on site, it's not yet known what colour the support structure and the ride's trains will be, which may also hint at the ride's theme.
Sticking within the DC Comics stable is a safe bet given that every thrill ride at the theme park has been themed this way since 2005's Superman Escape. Popular ideas have been floated amongst the Parkz community both before and since today's revelation of a track colour.
A poll today on Parkz asks the question: what's the theme based on this track colour? The pink track (or maybe it's purple?) appears to rule out a few themes and certainly hints towards others.
The Flash
One of the few other recognisable DC superheroes after Batman and Superman. A standalone film about The Flash as part of the DC Extended Universe will hit cinemas in 2020. Pink hardly sells this typically red and yellow coloured character however. Though it's been floated many times in the Parkz forums, not one voter in today's poll thinks it'll be The Flash now that track is on site.
Wonder Woman
Another widely known DC character, pink does fit some cartoon depictions of Wonder Woman though it doesn't fit the darker tones of the current depiction of Wonder Woman – who will also feature in a standalone film due out this year. 6% in today's poll seems to think Wonder Woman is a good candidate for this ride's theme.
Aquaman
An odd choice for what logic suggest will be a very tall, fast and dry roller coaster. Aquaman is filming on the Gold Coast (his film is due in 2018) and that prompted some to suggest this would be a good candidate for a theme. A big, non-wet coaster doesn't exactly evoke Aquaman and pink is possibly the least Aquaman colour possible. Which is probably what Parkz members think – no one voted Aquaman today.
Suicide Squad
Suicide Squad seems to be a theme that this bright pink track evokes. Indeed, the colour feels at home amongst the pastel palette used prominently with this ragtag team of bad-but-good villains. Suicide Squad's 2016 film will be followed up in 2019 with a sequel so it's a brand that'll be present for years to come. Suicide Squad is something of a rehash of Doomsday Destroyer's Super-Villains Unleashed theme, and would indeed feature several of the same characters. It would give Movie World three villain themed rides up against three superhero rides, and would give the Joker and Harley Quinn placement on three rides at Movie World.
45% of members on Parkz think it's Suicide Squad.
The question is – particularly after the unforutunate events at Dreamworld last year – would Movie World choose such a brazenly grim name for a ride?
The Joker
For many, the bold pink track seems to capture the bright and cheery madness of Batman's archenemy, the Joker. The Joker already features prominently on two attractions at Movie World: Arkham Asylum - Shock Therapy and Doomsday Destroyer, so to give this character a third major ride – that's half of all the DC themed rides at Movie World – would be a lot of attention for a bad guy when the good guys like Superman and Batman only get one ride each and share Justice League: Alien Invasion 3D with the rest of the superhero gang.
Around 40% of the votes today say that it'll be The Joker.
The ride is yet to be announced, a long awaited step – this roller coaster was first hinted at in November 2015 – to put the minds of many theme park fans at ease. For now all we know is that Warner Bros. Movie World are building a pink – you know what... it could just be really light red – hypercoaster.
Of course with track showing up today, the ride's layout will now start to come together over the coming months, revealing just whether this roller coaster lives up to the world-class hints that have come from the park's owners Village Roadshow.
---
---
Recent articles
Now trending